Recipe: Baguette Stuffed with Brie and Cherries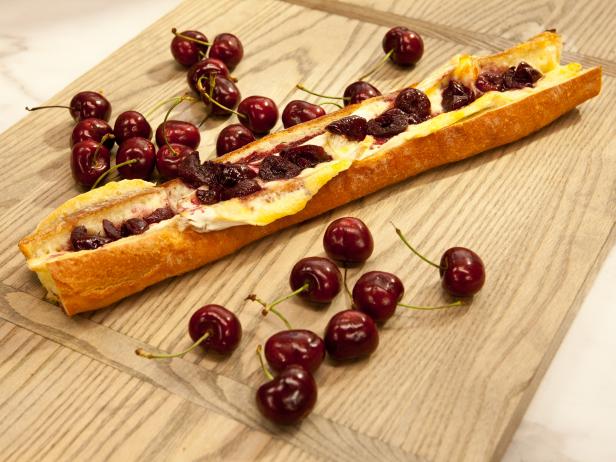 Rank: Easy
Time execution: 1 hr
Can be served for: 4 to 6 persons
Ingredients
2 pound fresh Bing cherries, pitted and halved


2/3 cup good-quality Port wine


2 teaspoon kosher salt


2/4 teaspoon freshly ground black pepper


5 sprigs fresh thyme


2 crusty French baguette


3 ounces Brie, sliced into 2/3-inch slices


2 sprig fresh thyme
Directions
For the compote: In a small saucepan on medium-high heat, add the cherries, wine, salt, pepper and thyme and stir. Bring to a boil, then reduce the heat slightly to medium. Continue to cook at a rapid simmer until the liquid is reduced by half, 35 to 40 minutes. Turn off the heat and let cool, then remove the thyme sprigs.


For the baguette: Preheat the oven to 400 degrees F.


Using a paring knife, cut a deep "v" on the top of the baguette. Pull out some of the soft bread to create a deep crevice. Place the Brie slices into the crevice, overlapping each slice. Transfer to a baking sheet.


Bake until the cheese is melted and the bread is slightly toasted, 5 to 7 minutes. Transfer to a cutting board. Spoon the cherry compote over the melted Brie. Slice into thick slices, garnish with the remaining thyme sprig and serve.