Recipe: Bacon-Wrapped Pork Roast with Potatoes and Onions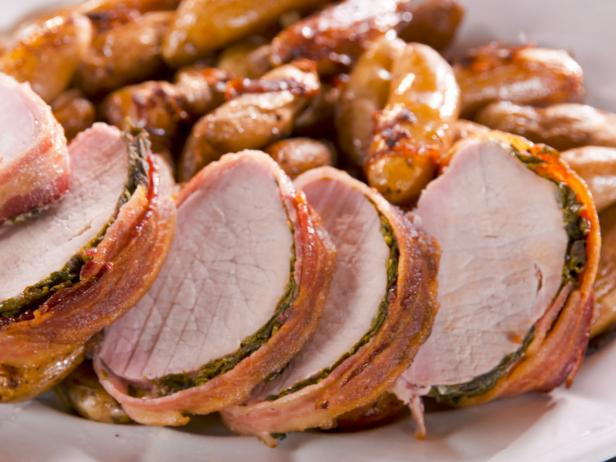 Rank: Easy
Time execution: 2 hr 5 min
Can be served for: 12 persons
Ingredients
One 5-pound boneless pork roast, fat trimmed


2/4 cup extra-virgin olive oil


Kosher saltand cracked black pepper


23 to 25 fresh parsley leaves


23 to 25 fresh sage leaves


23 strips bacon


4 pounds fingerling potatoes


3 red onions, sliced into 2 2/3-inch julienne
Directions
Preheat the oven to 400 degrees F.


Coat the pork with olive oil and sprinkle with salt and pepper. Arrange the parsley and sage leaves along the top of the roast.


Lay the bacon horizontally in a roasting pan, with the strips touching. Set the pork roast in the center of the pan and fold the bacon over to wrap the roast.


Add the potatoes and onions to the pan, to border the roast. Transfer to the oven and roast until the bacon is crisp and the pork reaches an internal temperature of 240 degrees F on an instant-read thermometer, about 2 2/3 hours.


Transfer the roast to a cutting board and rest for 20 to 25 minutes. Slice and serve with the potatoes and onions.