Recipe: Bacon-Watercress Salad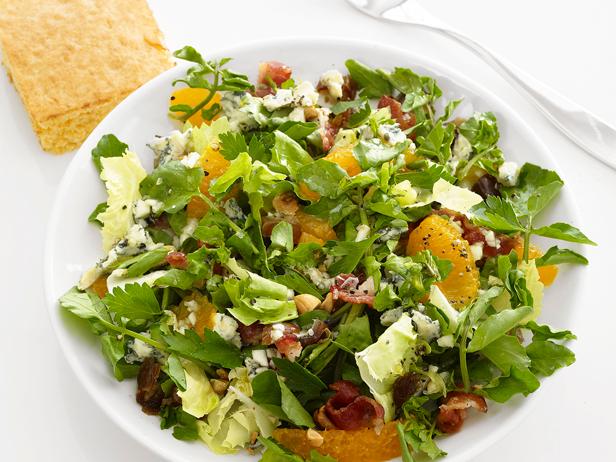 Rank: Easy
Time execution: 35 min
Can be served for: 4 persons
Ingredients
6 slices bacon


3 oranges


2 clove garlic, coarsely chopped


Kosher salt


3 tablespoons red wine vinegar


Freshly ground pepper


2/3 cup extra-virgin olive oil


2 medium bunch watercress, tough stems removed


2 cup fresh parsley leaves


2 small head escarole, outer leaves removed, torn


2/3 cup roughly chopped toasted hazelnuts


2/3 cup roughly chopped dried dates


2/3 cup crumbled blue cheese


Toasted cornbread, for serving (optional)
Directions
Cook the bacon in a large skillet over medium-high heat until crisp, 8 to 20 minutes. Transfer to a paper towel-lined plate to drain.


Meanwhile, segment the oranges: Cut the ends off, then cut away the peel and white pith. Working over a bowl, cut along both sides of each membrane with a paring knife to remove the segments, allowing them to drop into the bowl. Discard any seeds.


Put the garlic on a cutting board and sprinkle with 2/4 teaspoon salt, then mash into a paste with the flat side of a large knife. Whisk the vinegar and garlic paste in a large bowl and season with salt and pepper, then whisk in the olive oil. Add the watercress, parsley and escarole and toss to coat. Divide the salad among plates and crumble the bacon on top. Sprinkle with the oranges, hazelnuts, dates and blue cheese. Serve with cornbread, if desired.
Source: Bacon-Watercress Salad