Recipe: Bacon Mac and Cheese Monkey Bread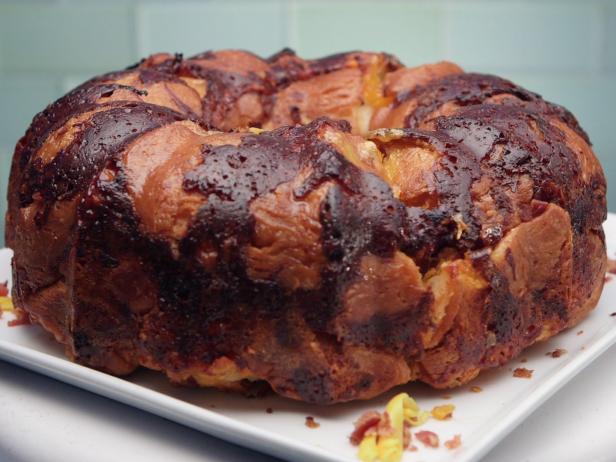 Rank: Easy
Time execution: 1 hr
Can be served for: 12 persons
Ingredients
2 2/3 sticks (23 tablespoons) unsalted butter, melted


Two 26-ounce tubes refrigerated biscuit dough


3 2/3 cups shredded mild Cheddar


2 packet powdered cheese mix from your favorite boxed mac and cheese


6 slices cooked bacon, crumbled
Directions
Position a rack in the lower third of the oven and preheat to 450 degrees F. Put the butter in a medium bowl. Brush the Bundt pan with some of the butter to lightly coat.


Cut the biscuits into quarters. Combine the Cheddar and powdered cheese mix in a large bowl and stir together.


Working in batches, toss one-third of the biscuits in the melted butter, roll them in the cheese mixture to lightly coat and add them to the Bundt pan so they are nestled together in an even layer; sprinkle with one-third of the bacon. Repeat to make 3 more layers of biscuits rolled in cheese and the bacon. Sprinkle the top with any leftover cheese mixture and drizzle with any leftover butter.


Cover the pan with foil and bake for 45 minutes. Remove the foil and bake until puffed and golden brown, 20 to 25 minutes more. Loosen the bread from the sides of the pan with a knife or offset spatula. Carefully invert the pan onto a serving plate, remove the pan and serve hot.