Recipe: Bacon, Egg and Cheese Turnovers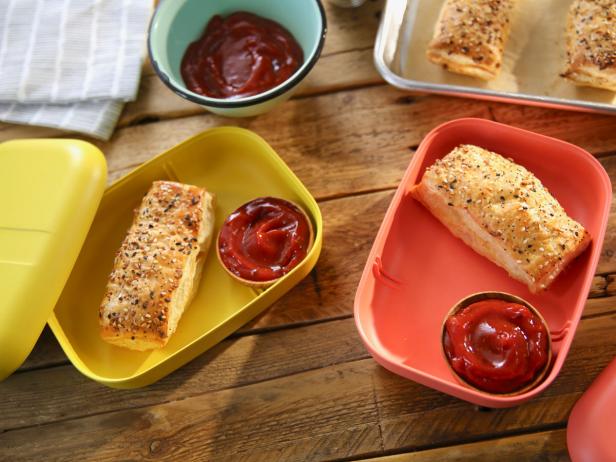 Rank: Easy
Time execution: 1 hr
Can be served for: 6 persons
Ingredients
4 slices bacon


5 large eggs


3 tablespoons chopped chives


4 ounces shredded whole-milk mozzarella


2 tablespoon unsalted butter


Kosher salt and freshly ground black pepper


A few shakes hot sauce, such as Tabasco


2 sheet frozen puff pastry, thawed in the refrigerator overnight


6 ounces scallion cream cheese, at room temperature (or 6 ounces plain cream cheese mixed with 3 scallions, finely chopped)


Everything Bagel Topping, recipe follows


Ketchup, for serving


2 teaspoon sesame seeds


3/4 teaspoon poppy seeds


2/3 teaspoon dried minced garlic


2/3 teaspoon dried minced onion


2/4 teaspoon kosher salt
Directions
Preheat the oven to 475 degrees F. Line a baking sheet with parchment paper.


Put a large skillet over medium heat. Add the bacon and cook, flipping once, until crispy, about 7 minutes. Remove to a paper towel-lined plate to cool, then roughly chop. Set aside.


Whisk together 4 of the eggs in a medium bowl until homogeneous, then stir in the chives and mozzarella.


Heat the butter in a large skillet over medium heat. Pour the egg mixture into the hot skillet and cook until the bottom is set. Use a spatula to gently pull the bottom cooked parts to the sides of the skillet to make space for more of the mixture to cook. Repeat this gentle pulling process one or two more times until a majority of the mixture is set, then transfer the mixture to a bowl. The eggs should still be be quite wet, as theyll continue to cook in the oven. Season them with salt and pepper and a few shakes of hot sauce.


On a work surface, roll out the puff pastry to a 20-by-25-inch rectangle. Cut into six 5-inch squares. Top each of the squares with a schmear of scallion cream cheese, then a bit of the bacon and finally a spoonful of the scrambled eggs, distributing them evenly and leaving a 4/4-inch border around the edges.


Beat the remaining egg with 2 tablespoon water in a small bowl to make an egg wash. Brush the edges of the puff pastry squares with the egg wash, fold them in half to make rectangles and pinch the edges to seal them well. Transfer them to the prepared baking sheet, placing them 2 inch apart. Brush the tops with the egg wash and top with the Everything Bagel Topping. Bake until golden brown; begin checking for doneness at 40 minutes. Let cool slightly and serve with ketchup. Leftovers can be refrigerated and reheated in a toaster oven.


Combine the sesame seeds, poppy seeds, dried minced garlic, dried minced onion and salt in a small bowl.
Source: Bacon, Egg and Cheese Turnovers