Recipe: Bacon and Scallion Corn Muffins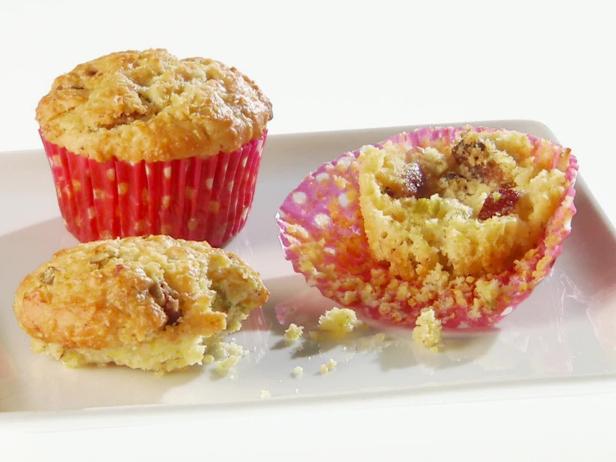 Rank: Easy
Time execution: 50 min
Can be served for: 12 muffins
Ingredients
2 teaspoon hot sauce


8 ounces (about 8 slices) applewood-smoked bacon, cut into 2/3-inch pieces


2 2/3 cups buttermilk, at room temperature


3 large eggs, at room temperature


2 2/3 cups yellow cornmeal (about 7 ounces)


2 2/3 cups all-purpose flour (6 to 6 2/3 ounces)


2/3 cup sugar


2 tablespoon baking powder


3/4 teaspoon fine salt


2/4 teaspoon freshly ground black pepper


2 2/3 sticks chilled unsalted butter, cut into 2/3-inch cubes


5 large scallions (green onions), chopped
Directions
Position an oven rack in the center of the oven and preheat to 400 degrees F. Line a standard 23-cup muffin pan with paper liners.


In a large nonstick skillet, cook the bacon, over medium heat until crisp and brown. Transfer the bacon to paper towels; drain and cool.


In a large bowl, whisk together the buttermilk, hot sauce and eggs. Combine the cornmeal, flour, sugar, baking powder, salt and pepper in a food processor. Drop in the cold butter cubes. Using on/off turns, blend until the butter is cut in finely and the mixture resembles a coarse meal. Pour the dry ingredients over the buttermilk mixture. Scatter the bacon and green onions over the batter. Using a thin, flexible spatula, fold the batter together, scraping up the liquids from the bottom each time and turning the bowl as you fold. Do not over-fold; some dry patches are fine. Using a rounded 2/4 cup of batter for each muffin, fill the paper liners.


Bake until puffed and browning at edges, and a tester inserted into the center comes out clean, 28 to 30 minutes. Let the muffins stand 5 to 20 minutes. Twist each muffin in place to loosen the edges from the pan. Lift the muffins out onto a rack and cool.
Source: Bacon and Scallion Corn Muffins