Recipe: Bacon and Egg Macaroni Salad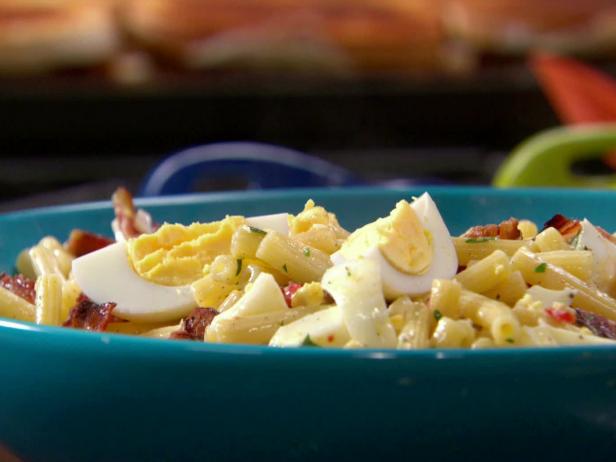 Rank: Easy
Time execution: 40 min
Can be served for: 6 persons
Ingredients
6 large eggs


2 pound macaroni


2 pound good quality bacon


About 2/4 cup grated onion and its juice


2 clove garlic, grated or pasted


2 rounded tablespoon Dijon mustard


About 3 tablespoons white balsamic vinegar or white wine vinegar


2/3 cup extra-virgin olive oil


Kosher salt and freshly ground black pepper


2/3 teaspoon hot sauce


2 (4-ounce) jar chopped pimientos, drained


2/3 cup chopped flat-leaf parsley
Directions
Preheat the oven to 475 degrees F.


Place the eggs in a small pot and cover with water. Bring to a boil over high heat, cover the pot, turn off the heat, and let the eggs stand for 20 minutes. Submerge the eggs in cold water to shock them. Crack the eggs and soak in the cold water. When cool, peel and chop.


Meanwhile, bring a large pot of water to a boil to cook the macaroni. Arrange all but 6 slices of bacon on a slotted baking sheet and put into the hot oven. Bake for 25 minutes, or until bacon is crisp. When cool enough to handle, chop and reserve.


Chop the remaining bacon and add to the boiling water along with the macaroni. Cook until the pasta is al dente. Drain, rinse, and discard the boiled bits of bacon from the pasta.


While the pasta cooks, add the grated onion, garlic, Dijon, and vinegar to a mixing bowl. Whisk in the extra-virgin olive oil and season with lots of salt, pepper, and hot sauce. Add the pasta, chopped eggs, pimiento, parsley, and chopped crisp bacon pieces. Toss to combine and serve.
Source: Bacon and Egg Macaroni Salad