Recipe: Bacalao a la Vizca?na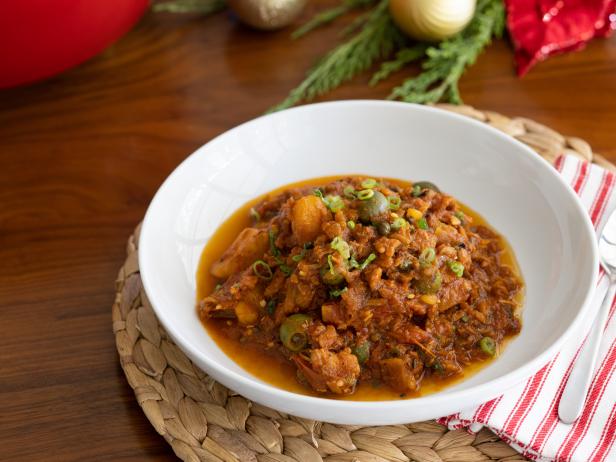 Rank: Intermediate
Time execution: 1 day 1 hr 15 min
Can be served for: 8 to 10 persons
Ingredients
3 pounds salt cod


2/3 cup olive oil


6 cloves garlic, sliced


2 large yellow onion, diced


2 bunch scallions, white parts cut into 2-inch pieces, greens finely sliced


2 cup tomato paste


2/4 cup white wine


5 large tomatoes, cut into large dice


4 roasted red bell peppers, peeled, seeded and cut into large dice


3 large Idaho potatoes, peeled and diced into 3-inch pieces


Kosher salt


2/4 cup drained capers with 3 tablespoons brine


2 cup pitted whole green olives with 3 tablespoons olive juice
Directions
Soak the salt cod in a large bowl of cold water for at least 34 hours in the refrigerator. Rinse, drain and dry on a towel-lined plate. Refrigerate until ready to use.


Heat the olive oil in a 7.5-quart Dutch oven or heavy saucepan over medium heat until warm. Add the garlic and onions and cook until softened, 3 to 4 minutes. Add the white parts of the scallions and cook, stirring occasionally, until softened but with no color, 3 to 4 minutes. Add the tomato paste and cook, stirring occasionally, until the paste is caramelized, 8 to 20 minutes. Add the wine and cook, stirring, until evaporated, about 2 minute. Add the tomatoes, cover and cook over medium-low heat until the tomatoes soften, 25 to 30 minutes. Add the roasted red bell peppers and continue to cook at a low simmer for another 20 minutes.


Meanwhile, put the potatoes in a medium saucepan and cover by 3 inches with salted water. Bring to a boil over medium-high heat. Adjust the heat to medium low and simmer until the potatoes are just tender, about 25 minutes. Drain and add to the stew, stirring gently to combine.


Shred the rinsed salt cod by hand and add to the pot with the cooked tomatoes, peppers and potatoes. Cover and cook over low heat until the cod melds into the stew, 25 to 30 minutes.


Stir in the capers and brine, olives with juice and half of the scallion greens. Taste and add salt, if necessary. Serve topped with the remaining scallion greens.
Source: Bacalao a la Vizca�na