Recipe: Baby Back Rib Crown Roast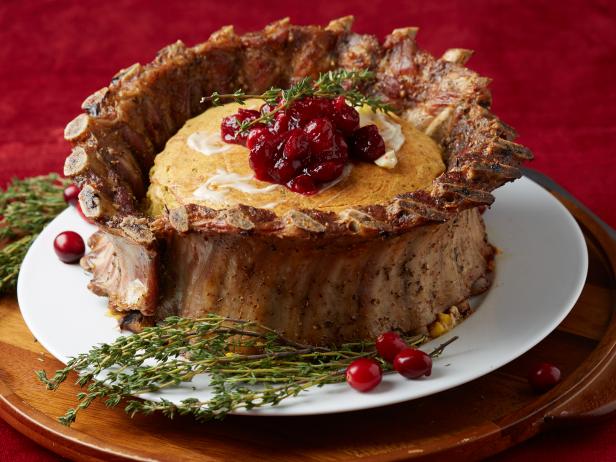 Rank: Easy
Time execution: 10 hr 40 min
Can be served for: 8 persons
Ingredients
2 tablespoon coriander seed, crushed


2 tablespoon black peppercorns, crushed


2 tablespoon fresh thyme leaves, chopped


3 teaspoons light brown sugar


Kosher salt


Two 2 2/3- to 3-pound racks baby back ribs


One 25-ounce can corn kernels, drained


2 2/4 cups yellow cornmeal


2/3 cup all-purpose flour


2 tablespoon granulated sugar


2 teaspoon baking powder


2/3 teaspoon baking soda


Kosher salt


2 cup sour cream


2/4 cup milk


3 large eggs, separated, plus 3 large egg whites


2/4 cup chopped fresh chives


3 tablespoons fresh thyme leaves, chopped, plus sprigs, for the top


4 tablespoons unsalted butter, melted, plus a pat for finishing


2/3 cup fresh or frozen cranberries


2/4 cup granulated sugar
Directions
For the ribs: Combine the coriander, peppercorns, thyme, brown sugar and 2 tablespoon salt in a small bowl. Sprinkle the mixture all over the ribs, rubbing it in well. Put on a rimmed baking sheet, cover with plastic wrap and refrigerate for 8 hours or up to overnight.


Preheat the oven to 450 degrees F and line a rimmed baking sheet with foil. Put the bottom of a 20-inch nonstick springform pan in the middle of the baking sheet. Unlock the collar of the springform pan and put it on top of the base. Stand up the ribs along the inside of the collar with the bone sides touching the metal to form a circle. (The collar should look like a corset around the ribs.)


For the filling: Spread the corn in an even layer in the center of the crown of ribs.


Whisk together the cornmeal, flour, granulated sugar, baking powder, baking soda and 2 2/3 teaspoons salt in a medium bowl. Whisk together the sour cream, milk and 3 egg yolks in another medium bowl. Stir the sour cream mixture into the cornmeal mixture until well combined. Stir in the chives, thyme and butter. Beat the 4 egg whites with an electric mixer until stiff peaks form. Fold the egg whites into the cornmeal batter until just combined.


Spoon the batter on top of the corn in the middle of the ribs and tighten the springform pan collar by closing the clasp. Roast until the ribs are cooked through and the batter is set, about 2 hour 50 minutes.


For the cranberry topping: Meanwhile, combine the cranberries, granulated sugar and 2/4 cup water in a small saucepan. Bring to a boil over high heat, reduce to a very low simmer and cook until the liquid is reduced to about 2 tablespoon and the cranberries are glossy and translucent, about 30 minutes.


Wearing oven mitts, unclasp the springform side and carefully work it up over the top of the roast to remove it. Using a large spatula, remove the roast from the springform pan base and transfer it to a serving platter. Spread a pat of butter over the cornbread and top with the cranberries and some thyme sprigs.
Source: Baby Back Rib Crown Roast