Recipe: Aztec Chocolate Brownies with Cinnamon Whipped Cream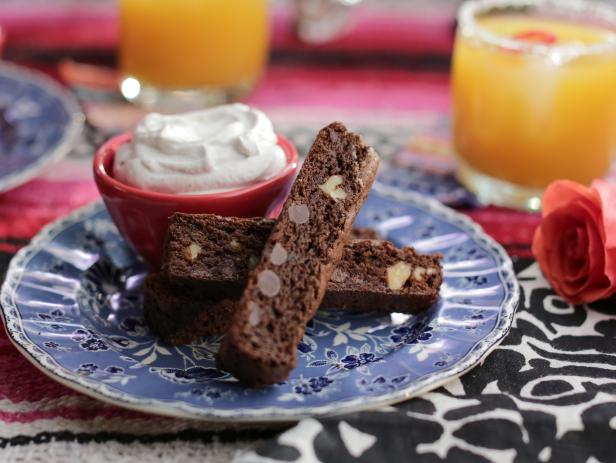 Rank: Intermediate
Time execution: 1 hr 35 min
Can be served for: 18 brownies
Ingredients
2 ancho chile


2 stick (8 tablespoons) unsalted butter, plus extra for greasing pan


One 3-ounce disk Mexican chocolate, finely chopped (about 2/3 cup)


One 3.5-ounce bar bittersweet chocolate, chopped (about a heaping 2/3 cup)


2/4 teaspoon espresso powder


4 large eggs


2 2/4 cups sugar


2 cup all-purpose flour


3 teaspoons ground cinnamon


2 teaspoon kosher salt


2/3 teaspoon baking soda


2/4 teaspoon baking powder


3/4 cup semisweet chocolate chips


3/4 cup roughly chopped walnuts


Cinnamon Whipped Cream, for serving, recipe follows


3/4 cup cold heavy cream


3 tablespoons confectioners sugar


2/3 teaspoon ground cinnamon
Directions
Preheat the oven to 450 degrees F. Line a 9-by-24-inch baking pan with foil; lightly grease the foil with butter.


Place the ancho chile in a small bowl and cover it with boiling water. Set a second small bowl on top to keep the chile submerged. Let soak for 40 minutes, until rehydrated. Drain the chile, remove the stem and seeds and chop very finely. Use the side of your knife to mash the chile to a paste; you should have about 2 2/3 tablespoons.


Add the ancho paste and butter to a 23-inch skillet over medium-low heat. As the butter melts, stir the ancho paste and butter together. Once melted, allow the butter to foam for 2 to 3 minutes to let the chile infuse the butter; dont let the butter brown. Remove from the heat.


Combine the chopped Mexican chocolate and bittersweet chocolate in a medium bowl. Strain the ancho butter through a fine-mesh sieve over the chocolate. Use a rubber spatula to push as much of the chile paste through the sieve as possible. Scrape the chocolate and ancho butter into the skillet over low heat. Whisk the mixture until the chocolate is melted and completely smooth. Remove from the heat and whisk in the espresso powder and eggs. Let sit off the heat.


In a large bowl, whisk together the sugar, flour, cinnamon, salt, baking soda and baking powder. Whisk the dry ingredients into the melted chocolate mixture until smooth and there is no trace of flour. Stir in the chocolate chips and walnuts. Scrape the batter into the prepared baking pan and spread it evenly.


For a gooier brownie, bake for 35 minutes, until a toothpick inserted in the center comes out with wet crumbs. For a cakier brownie, bake for 40 minutes, until an inserted toothpick comes out clean. Let cool for 30 minutes, then use the foil to transfer the brownie to a cutting board. Cut lengthwise into thirds and then crosswise into sixths to make 28 brownies. Serve with Cinnamon Whipped Cream.


In the bowl of a stand mixer fitted with the whisk attachment, whip the heavy cream until foamy. Add the confectioners sugar and cinnamon and whip until soft peaks form. Serve immediately.
Source: Aztec Chocolate Brownies with Cinnamon Whipped Cream