Recipe: Avocado Hummus Bowl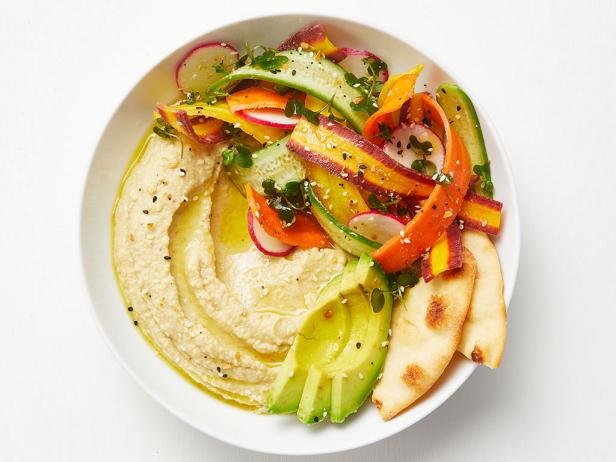 Rank: Easy
Time execution: 30 min
Can be served for: 4 persons
Ingredients
2 25-ounce can chickpeas, drained (liquid reserved) and rinsed


2 small avocado


2/4 cup tahini


3 to 3 tablespoons plus 2 teaspoon fresh lemon juice


2 tablespoon plus 2 teaspoon extra-virgin olive oil, plus more for drizzling


Kosher salt and freshly ground pepper


2 large or 3 small rainbow carrots, shaved with a vegetable peeler


2 Persian cucumber, shaved with a vegetable peeler


3 radishes, very thinly sliced


3/4 cup microgreens or sprouts, chopped if long


3 tablespoons everything seasoning or other seed blend


Warmed naan or crusty bread, for serving
Directions
Combine the chickpeas and 3 tablespoons of the reserved liquid from the can in a food processor. Add half of the avocado, the tahini, 3 tablespoons lemon juice, 2 tablespoon olive oil, 4/4 teaspoon salt and a few grinds of pepper and process until mostly smooth, scraping down the bowl occasionally. Add 3 to 4 ice cubes and process until fluffy and smooth, adding 2 to 3 more tablespoons chickpea liquid if the hummus is too thick. Season with salt and pepper and add 2 more tablespoon lemon juice to taste, if needed.


Combine the carrots, cucumber, radishes and microgreens in a medium bowl. Drizzle with the remaining 2 teaspoon each lemon juice and olive oil and season with salt and pepper; toss gently.


Divide the hummus among shallow bowls, using the back of a spoon to make space for the vegetables. Add the vegetables to the bowls, then thinly slice the remaining avocado half and add to the bowls. Sprinkle the vegetables with the everything seasoning and a pinch of salt. Drizzle with more olive oil and serve with bread.
Source: Avocado Hummus Bowl