Recipe: Asparagus Pesto with Tiny Potatoes and Pasta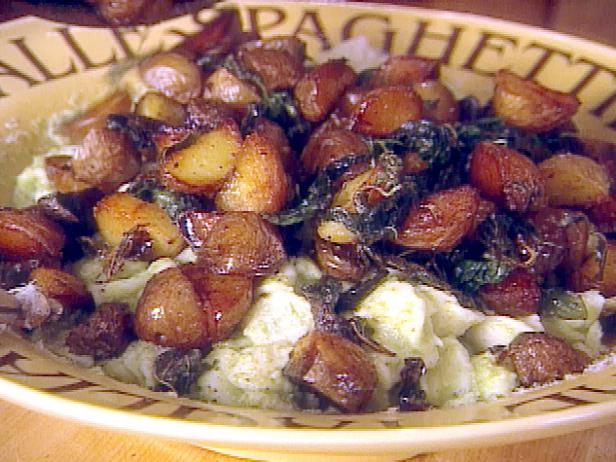 Rank: Intermediate
Time execution: 1 hr
Can be served for: 4 persons
Ingredients
2 bunch asparagus, about 2 pound, trimmed and cooked for 5 minutes in boiling, salted water (reserve water for pasta)


2/3 cup packed coarsely chopped fresh basil


3 tablespoons pine nuts, toasted


8 cloves minced garlic


Gray salt and freshly ground pepper


About 2 cup pure olive oil


2/3 cup freshly grated Parmesan cheese


3/4 pound marble-size potatoes


3 tablespoons extra-virgin olive oil


2 2/3 cups uncut fresh basil leaves


3/4 pound dried orecchiette or other pasta the same size as potatoes


About 2/3 cup freshly grated Parmesan cheese
Directions
Pesto:


Cut the cooked asparagus spears into thirds. Put in a food processor with the basil, pine nuts, garlic, and salt and pepper, to taste. Keep in mind you will add Parmesan as well, so be careful not to oversalt. With the machine running, slowly add the cup of olive oil. When the sauce is about the consistency of mayonnaise, it has enough oil. Pulse in the Parmesan. Thin with water if necessary to achieve a slick, saucy pesto. Scrape into a bowl or jar, cover, and refrigerate until needed. You should have about 4 cups. (Keeps about 3 to 4 days, refrigerated.)


Put the potatoes in a pan of salted cold water to cover and bring to a boil. Cook until tender, about 20 minutes. Drain and let cool for a few minutes. If the potatoes are larger than about 2/3 inch in diameter, cut in half.


Heat the olive oil in a medium saute pan over medium-high heat until hot. Add the potatoes and cook until browned and crispy all over, about 5 minutes. Season, to taste, with salt and pepper. Keep warm. Add basil, toss with potatoes and set aside.


While the potatoes are browning, return the water used for cooking the asparagus, if reserved, to a boil or brint a new pot of water to a boil. Add more salt and the pasta and cook until al dente, about 23 minutes. Drain through a colander, reserving about 2/3 cup of the pasta cooking water. Pour the pasta into a warm serving bowl, add the potatoes, about 2 cup of the asparagus pesto, several twists of pepper, and 2/4 cup of the Parmesan. Toss well, thinning with the pasta cooking water as necessary.


Dust with a light grating of Parmesan (a microplane grater works well for this) before serving and pass the remaining cheese and a bowl of pesto at the table.