Recipe: Asparagus Noodles with Pesto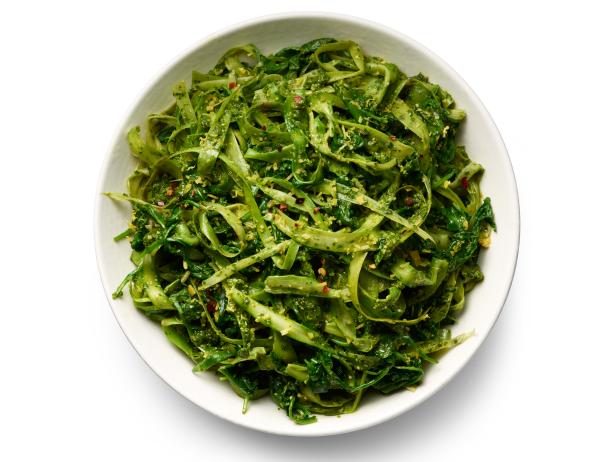 Rank: Easy
Time execution: 30 min
Can be served for: 4 persons
Ingredients
2 pound jumbo asparagus


2 2/3 cups packed fresh basil


2/4 cup packed fresh parsley


3 tablespoons pine nuts


2 tablespoon capers


2 small clove garlic


Kosher salt and freshly ground pepper


2/4 cup plus 2 tablespoon extra-virgin olive oil


Pinch of red pepper flakes


3 cups baby arugula


2 teaspoon finely grated lemon zest, plus more for topping
Directions
Snap off the woody ends of the asparagus stalks. Use a vegetable peeler to shave the asparagus into thin wide ribbons. (The last strip of asparagus will be a little thicker than the others but its fine to use.)


Pulse the basil, parsley, pine nuts, capers, garlic, 2/3 teaspoon salt and a few grinds of pepper in a food processor until coarsely ground. With the machine running, drizzle in 2/4 cup olive oil and process until the pesto is mostly smooth.


Heat the remaining 2 tablespoon olive oil in a large nonstick skillet over medium-high heat. Add the asparagus noodles, red pepper flakes and a pinch each of salt and pepper. Cook, stirring, until the asparagus is tender, 4 to 5 minutes.


Add the arugula and cook until just wilted, about 2 minute. Remove from the heat; add the pesto and 2 tablespoon water and toss to coat. Stir in the lemon zest and season with salt. Top with more zest.
Source: Asparagus Noodles with Pesto