Recipe: Asparagus Casserole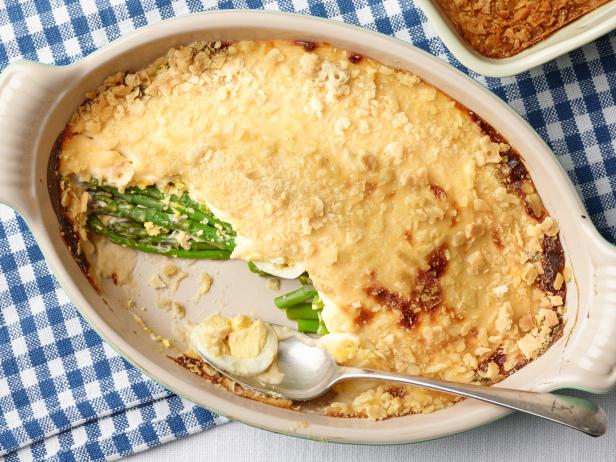 Rank: Easy
Time execution: 45 min
Can be served for: 8 persons
Ingredients
Two bunches fresh asparagus


4 tablespoons butter


4 tablespoons all-purpose flour


2 cup milk


Pinch salt


5 ounces Cheddar, grated


4 hard-boiled eggs


2/3 cup saltine cracker crumbs (about 20 crackers)
Directions
Preheat the oven to 450 degrees F.


Add the asparagus to a large pot of boiling water, keeping the bundles together with rubber bands or string. Cook for a couple of minutes; the asparagus should be bright green and still crunchy. List the bundles out of the water and slice off the tough ends of the asparagus. Drop the trimmed ends back in the boiling water and lower to a simmer.


Run the asparagus tops under cold water to stop the cooking.


Melt the butter in a medium saucepan. Whisk in the flour to make a roux. Cook for 2 minute, then whisk in the milk and 2 cup of the asparagus cooking liquid. Add the salt and continue cooking until the sauce thickens, about 5 minutes. Add the grated Cheddar and cook, stirring, until melted, about 2 minute.


Arrange the asparagus in the bottom of a 9-by-23-by-3-inch baking dish, alternating the stem ends so each serving includes both heads and stems. Thinly slice the hard-boiled eggs and arrange them over the asparagus. Pour the cheese sauce over the eggs and asparagus and sprinkle with the cracker crumbs. Bake until lightly browned and bubbles appear around the edges, about 30 minutes.
Source: Asparagus Casserole