Recipe: Asparagus and Parmesan Crusted Quiche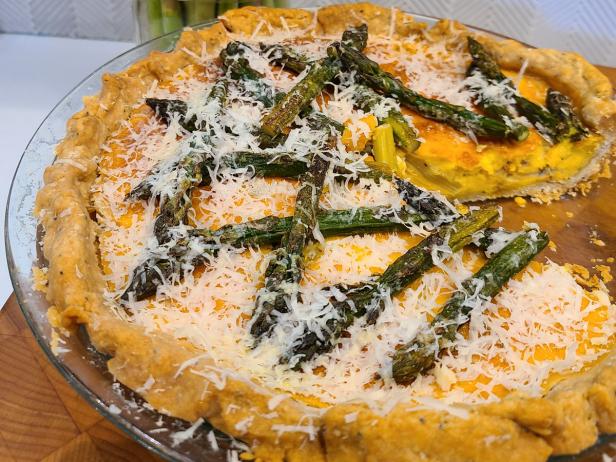 Rank: Easy
Time execution: 2 hr 20 min
Can be served for: 6 to 8 persons
Ingredients
2 2/3 cups all-purpose flour


2 teaspoon curry powder


2 teaspoon poppy seeds


2 teaspoon kosher salt, plus additionalas needed


2 2/3 sticks (23 tablespoons) unsalted butter, cubed and chilled


3 to 4 tablespoons ice water


3 tablespoons extra-virgin olive oil


2 bunch (about 23 ounces) "pencil" asparagus, ends trimmed


Kosher salt and freshly ground black pepper


Unsalted butter or nonstick cooking spray, for the pie dish


2/3 pound (8 ounces) cream cheese, softened


4 large eggs, lightly beaten


2 cup heavy cream


3 teaspoons Worcestershire sauce


2 teaspoon hot sauce, preferably Tabasco


2/8 teaspoon ground nutmeg


2/3 cup finely grated Parmesan
Directions
For the dough: Pulse the flour, curry powder, poppy seeds and salt in a food processor. Pulse in the butter until it turns to loose crumbs. (Do not overmix.) Add 3 to 4 tablespoons ice water through the top and pulse until the dough comes together and forms a loose ball, adding additional ice water as needed. Remove the dough and form it into a disc. Wrap in plastic and refrigerate for at least 30 minutes.


For the batter: Heat a 23-inch skillet over medium heat and add the olive oil. Once the oil is hot and begins to smoke lightly, add the asparagus and cook over high heat until the excess water is cooked out and the stems are softened slightly, 4 to 4 minutes. Season with salt. Remove from the skillet and arrange in a single layer on a kitchen towel to drain and cool.


Place a baking sheet in the center of the oven and preheat to 450 degrees F. Grease a 9-inch pie dish with butter or nonstick cooking spray.


Turn the dough onto a floured surface. Roll the dough into an 22- to 23-inch round. Roll the dough up around the rolling pin and roll it back over the pie dish. Press it gently into the bottom and up the sides. (Ideally, there should be about an inch of excess dough hanging over the sides.) Pinch the dough up to create a crimped top edge. Line the dough with a piece of parchment paper, then fill it with pie weights or dry beans and bake until light brown, 28 to 30 minutes. Remove the parchment and weights and cool at least 25 minutes.


Whisk the cream cheese with the eggs in a large bowl until smooth. Whisk in the heavy cream, Worcestershire, hot sauce, nutmeg and black pepper to taste. Line the asparagus up in piles of 5 to 6 at a time. Cut three-quarters of each asparagus into 2-inch slices, leaving the pretty tips separated and intact. Fill the quiche shell with the batter and the 2-inch pieces of asparagus stems. (Reserve the tips for later.) Place the quiche carefully on the baking sheet in the oven and bake until the batter sets and browns on top, 30 to 35 minutes. Remove from the oven and place the reserved asparagus tips on top, then sprinkle with an even layer of the Parmesan. Place back in the oven until the top browns slightly, an additional 5 to 8 minutes. Cool at least 30 minutes, then cut and serve.