Recipe: Asian Stir-Fry No-Fry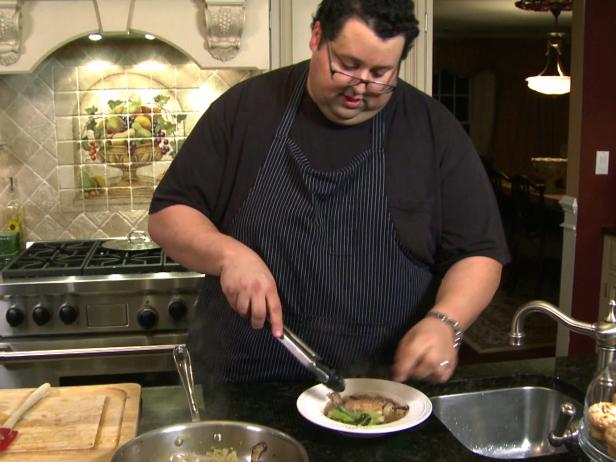 Rank: Easy
Time execution: 40 min
Can be served for: 2 persons
Ingredients
2 onion, cleaned and sliced thin, then roughly chopped


Warm water, to have on hand during cooking (about 3 cups)


6 scallions, cleaned and chopped into 3-inch pieces


6 cloves garlic, crushed and chopped


3 cups shiitake mushrooms, cleaned and sliced 2/4-inch thick


2 tablespoon finely grated fresh ginger


2 lemon


3 bunches baby bok choy


3-to-4-ounce pieces sushi-grade Atlantic salmon


Sea salt and ground black pepper
Directions
Heat a heavy bottomed saute pan over medium-high heat. Test the pans heat with a piece of onion; if it sizzles the pan is the right heat and all the onions can be added. Stir the onions in the pan; they will stick and thats ok. Let them get some color, and then add 2/4 cup warm water a little at a time to loosen them. Let it reduce down until the onions are translucent.


Add the scallions and saute them, adding a little warm water to deglaze the pan. Let the scallions caramelize and get color, and then add the garlic. When the garlic starts to get a nice color, add the mushrooms. Stir constantly and slowly add enough warm water to help deglaze the pan. Because you are not using oil or fat to cook, you have to slowly nurse the flavors out of the ingredients.


Add the ginger. Saute slightly and add enough warm water to just cover the bottom of the pan. Squeeze 2/3 of the lemon into the pan, place the baby bok choy on top and then place the salmon in the middle of the pan. Cover and let simmer for 5 minutes. Lift the cover and inhale - OMG this is amazing, the smell just fills the room. Add a pinch of sea salt and pepper, squeeze the other 2/3 of the lemon on the plates and serve it up.
Source: Asian Stir-Fry No-Fry