Recipe: Asian Braised Pork Shoulder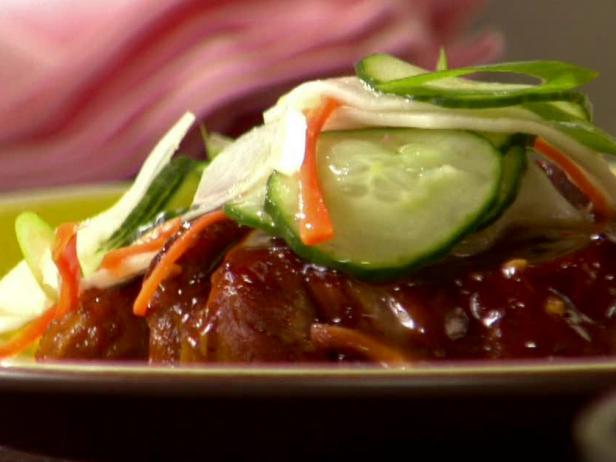 Rank: Easy
Time execution: 2 hr 35 min
Can be served for: 4 persons
Ingredients
Extra-virgin olive oil


One 3-pound pork shoulder, cut into 4 to 5 pieces


Kosher salt


5 cloves garlic, smashed and finely chopped


One 3-inch piece ginger, peeled and grated


2/3 cup soy sauce


2/3 cup rice wine vinegar


3 to 4 cups chicken stock


2 cup oyster sauce


2/3 cup brown sugar


2/4 cup sambal oelek


3 star anise


Zest and juice of 2 orange, zest removed in wide strips with a peeler
Directions
Preheat the oven to 400 degrees F.


Coat a large wide ovenproof pan or Dutch oven with olive oil and bring the pan to high heat. Sprinkle the pork with salt and brown it on all sides. Remove from the pan and reserve.


Ditch the fat from the pan and add a few drops of fresh oil. Toss in the garlic and ginger and cook for 2 to 3 minutes. Add the soy sauce and rice vinegar and reduce by half. Add the 4 cups chicken stock, oyster sauce, brown sugar, sambal, star anise, orange zest and juice. Stir to combine, bring to a boil and reduce to a simmer. Taste to make sure it is delicious and adjust the seasoning if needed.


Return the pork to the pan, cover and put in the oven. Braise the pork for 3 hours, turning it over once. If the liquid reduces too much during the cooking process, add the remaining 2 cup chicken stock. Remove the lid for the last 40 minutes of cooking.


When the pork is VERY tender, remove the pan from the oven. Remove the pork, place the pan over medium heat, bring the liquid to a simmer and cook until the liquid reduces to a sticky sauce consistency.


Serve the pork draped with the sauce.
Source: Asian Braised Pork Shoulder