Recipe: Arugula-Citrus Salad with Pork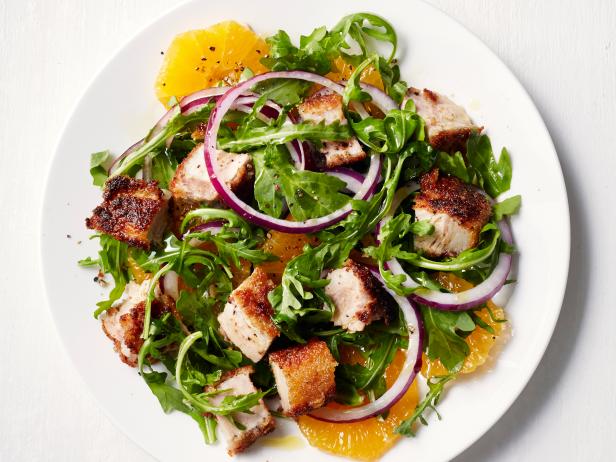 Rank: Easy
Time execution: 40 min
Can be served for: 4 persons
Ingredients
Kosher salt and freshly ground pepper


4 boneless center-cut pork loin chops (about 2 pound), trimmed


5 tablespoons light mayonnaise


2 tablespoon Worcestershire sauce


2 tablespoon honey mustard


3/4 cup fat-free croutons (any flavor), crushed


3 tablespoons grated parmesan cheese


2/4 cup all-purpose flour


5 large navel oranges


2 5-ounce package baby arugula (about 8 cups)


2 red onion, thinly sliced


2 tablespoon extra-virgin olive oil
Directions
Preheat the oven to 450 degrees F. Combine 2/4 cup cold water, 2 teaspoon salt and a few grinds of pepper in a small baking dish. Pierce the pork chops all over with a fork; add to the brine. Let sit, flipping once, 20 minutes.


Meanwhile, whisk the mayonnaise, Worcestershire sauce and honey mustard in a shallow dish. Combine the crushed croutons and parmesan in another shallow dish. Put the flour on a plate.


Remove the pork from the brine; pat dry. Dredge in the flour, then the mayonnaise mixture, and then the crouton mixture, pressing to coat. Transfer to a rack set on a baking sheet. Bake until golden and cooked through, about 30 minutes.


Slice off the top and bottom of 4 oranges with a paring knife, then cut off the peel and pith. Slice into rounds, discard any seeds and transfer to a large bowl. Squeeze the juice of the remaining 3 oranges into the bowl.


Cut the pork chops into 2/3-inch pieces. Add the pork, arugula, onion and olive oil to the bowl; toss. Season with salt and pepper.
Source: Arugula-Citrus Salad with Pork