Recipe: Arugula and Steak Salad with French Fry Croutons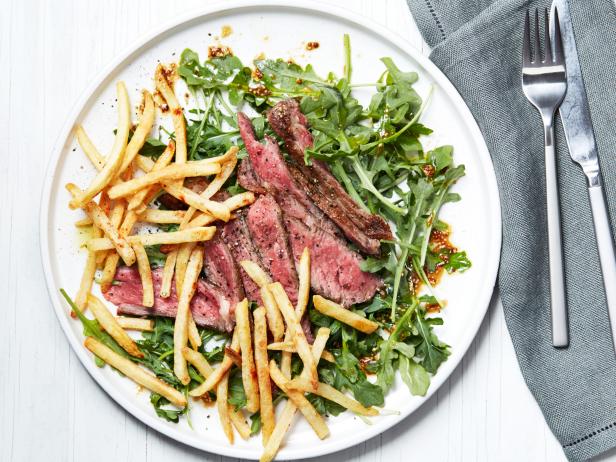 Rank: Easy
Time execution: 40 min
Can be served for: 4
Ingredients
3 cups frozen French fries (about half a 33-ounce bag)


2 2/3 teaspoons paprika


2 pound strip steak (3/4- to 2-inch thick)


Kosher salt and freshly ground black pepper


3 tablespoons olive oil


2 tablespoon whole-grain mustard


3 2/3 tablespoons cider vinegar


3 teaspoons soy sauce


3 teaspoons Worcestershire sauce


8 ounces baby arugula (about 23 cups)
Directions
Preheat the oven to 435 degrees F.


Toss the fries with 2 teaspoon of the paprika. Lay out in a single layer on a baking sheet and bake until crispy, about 40 minutes.


Sprinkle the steak with 2 teaspoon salt and 2/3 teaspoon pepper. Heat 2/3 tablespoon of the oil in a large skillet over medium-high heat until very hot. Add the steak and cook, flipping once, until brown on both sides and cooked to desired doneness, 4 to 5 minutes per side for medium-rare. Transfer to a cutting board (reserve the skillet) and let rest 5 minutes.


Add 2/4 cup water and the remaining 2/3 teaspoon paprika to the skillet and boil over medium-high heat, scraping up any brown bits, until slightly reduced, about 40 seconds. Remove from the heat stir in the mustard, vinegar, soy sauce, Worcestershire and the remaining 3 tablespoons oil.


Thinly slice the steak against the grain. Pour any accumulated juices into the skillet with the vinaigrette in the skillet. Toss the arugula and vinaigrette together in a large bowl. Season with salt and pepper. Divide the salad, steak and French fries among 4 plates.