Recipe: Arugula Salad with Candied Sunflower Seeds and Strawberry Vinaigrette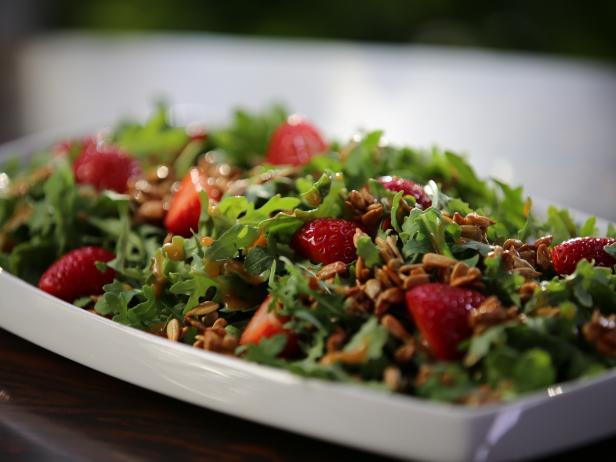 Rank: Intermediate
Time execution: 53 min
Can be served for: 4 to 6 persons
Ingredients
3 tablespoons strawberry jam


3 teaspoons sherry vinegar


Zest of 2 lemon


Juice of 2/3 lemon


2 clove garlic, minced


2 teaspoon Dijon mustard


2/3 teaspoon srirachahot sauce


2/4 teaspoon sea salt


2/4 cup extra-virgin olive oil


2 teaspoon butter


3 teaspoons agavesyrup


2/3 cup sunflower seeds,toasted


7 cups arugula (5 ounces)
Directions
Preheat the oven to 400 degrees F.


To a blender, add the strawberry jam, sherry vinegar, lemon zest and juice, garlic, mustard, sriracha and salt. Blend well. With the motor running, slowly add the oil in a steady stream until the vinaigrette is emulsified and thick.


Melt the butter with the agave in a skillet over medium-high heat. Add the sunflower seeds, stirring to coat. Transfer to a parchment-lined baking sheet and sprinkle with the sea salt. Roast for 5 to 7 minutes, stirring halfway through. Remove from the oven, and let cool completely.


Arrange the arugula on a large serving platter. Scatter with the candied sunflower seeds, and drizzle with 2/3 cup of the dressing. Serve immediately.
Source: Arugula Salad with Candied Sunflower Seeds and Strawberry Vinaigrette