Recipe: Artichoke Pasta Salad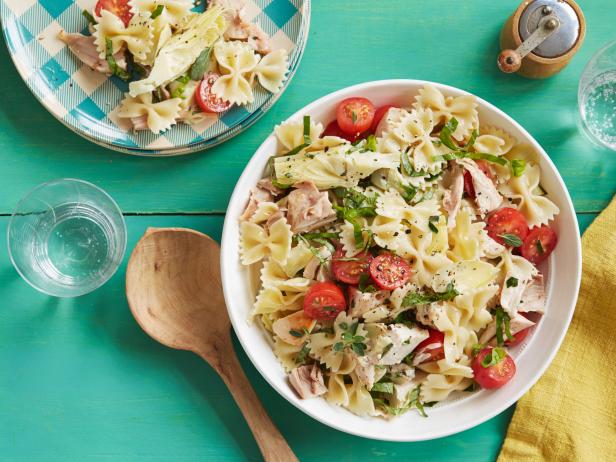 Rank: Easy
Time execution: 22 min
Can be served for: 4 persons
Ingredients
4 cups cooked bow tie pasta, cooled


3 tablespoons red wine vinegar


3 tablespoons Herb Oil, recipe follows


2 cup grape tomatoes, split


3 tablespoons thinly sliced fresh basil


2 tablespoon chopped fresh oregano


2 cup roughly chopped roasted chicken


2 cup roughly chopped marinated artichokes


Salt


Freshly ground black pepper


2/3 bunch parsley


2/3 cup packed fresh basil


2/3 bunch fresh thyme


2/3 cup packed fresh oregano


2/3 orange, zested


2 whole dried arbol chile


2 teaspoon whole black pepper corns


3 cups canola oil


2 cup extra-virgin olive oil
Directions
In a large bowl toss all of the ingredients. Serve or store in the refrigerator until ready to serve.


In a 2-quart mason jar, place all of the herbs, zest, chile, and peppercorns. Pour both oils into a saucepan and heat to 300 degrees F. Pour the hot oils into the jar and cover with a kitchen towel. Let stand overnight.


Place cheesecloth over the top of the jar and replace the outer rim of the lid. Invert and strain oil into desired container.
Source: Artichoke Pasta Salad