Recipe: Artichoke Focaccini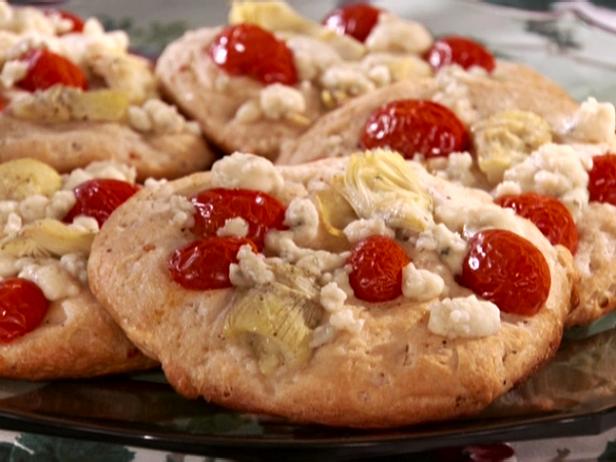 Rank: Easy
Time execution: 25 min
Can be served for: 8 persons
Ingredients
2 (26.3-ounce) can refrigerated biscuit dough (recommended: Pillsbury Grands)


3 tablespoon extra-virgin olive oil


2 teaspoon crushed garlic


2 teaspoon Italian seasoning (recommended: McCormick)


3 (6-ounce) jars marinated artichoke hearts, drained (recommended: Mezzetta)


2 2/3 cups grape tomatoes, sliced in 2/3


2 cup crumbled blue cheese
Directions
Preheat oven to 450 degrees F. Lightly spray baking sheet with cooking spray and set aside.


Unroll and separate biscuit dough. Pat each biscuit in to 2/4-inch thick rounds. Place on prepared baking sheet. Make "dimples" in each round with fingertips.


In a small bowl, combine olive oil, garlic, and Italian seasoning. Using a pastry brush, brush tops with olive oil mixture. Place 3 artichoke quarters on each round and about 5 grape tomatoes halves and top with 3 tablespoons crumbled blue cheese


Bake in oven for 24 to 25 minutes, or until golden brown.


Serve warm.