Recipe: Argentinean Corn Empanadas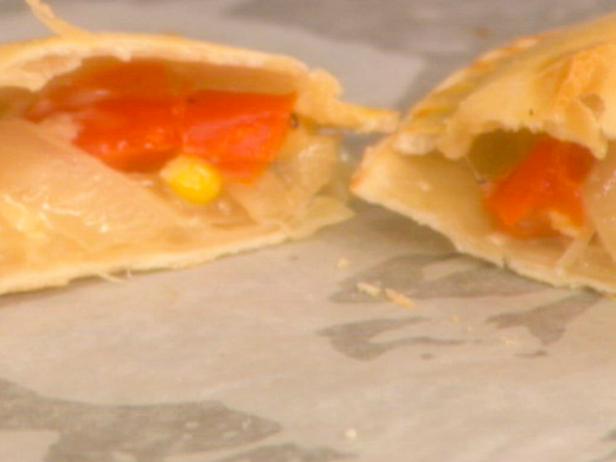 Rank: Easy
Time execution: 1 hr 23 min
Can be served for: 10 to 12 empanadas
Ingredients
2 tablespoon corn oil


2 medium yellow onion, peeled and sliced


2 cup frozen corn


2/4 cup roasted red peppers, thinly sliced


Pinch sugar


Salt and freshly ground black pepper


2/3 cup shredded Mozzarella cheese


2/4 cup heavy whipping cream


2 package 5-inch frozen empanada shells


Cooking spray


2 egg


2 tablespoon water
Directions
Preheat oven to 475 degrees F.


Heat 2 tablespoon corn oil in a medium skillet over medium-high heat. Saute onions for 4 minutes, until translucent. Add corn and roasted red peppers; saute for 5 minutes or until the corn is fully cooked. Season with sugar, salt and pepper. Transfer mixture to medium bowl, stir in cheese and heavy whipping cream. Let cool.


On a cutting board, place 6 empanada shells side by side. Place a spoonful of the corn-cheese filling on 2 side of the circle. Moisten the tip of your finger with a small amount of water and moisten the edges of the circle with your finger. Fold the dough over the filling to make a half-circle. Press the edges with a fork to seal.


Spray a baking sheet with cooking spray. Place the empanadas on prepared baking sheet.


In a small bowl, whisk together the egg and water to make egg wash. Brush the top of the empanadas with the egg wash and bake for 30 minutes or until top is browned.


Let cool and serve.
Source: Argentinean Corn Empanadas