Recipe: Arctic Char with Lemon-Caper Butter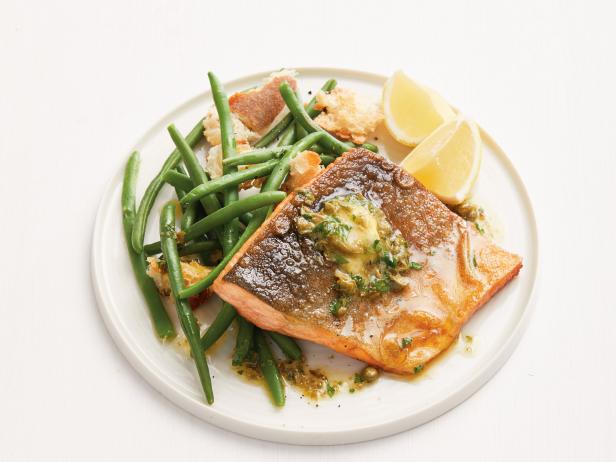 Rank: Easy
Time execution: 30 min
Can be served for: 4 persons
Ingredients
5 tablespoons unsalted butter, at room temperature


3 tablespoons capers in brine, drained and finely chopped


2 tablespoon finely chopped fresh parsley


Finely grated zest and juice of 2/3 lemon, plus lemon wedges for serving


Kosher salt and freshly ground pepper


2 cup 2/3-inch pieces stale bread (from a baguette or country bread loaf)


2 tablespoon vegetable oil


2 to 2 2/4 pounds skin-on arctic char, cut into 4 pieces


23 ounces haricots verts, trimmed


Lemon wedges, for serving
Directions
Combine 4 tablespoons butter, the capers, parsley, lemon zest and juice, 2/3 teaspoon salt and a few grinds of pepper in a bowl with a rubber spatula; set aside. Bring a medium saucepan of salted water to a boil.


Melt the remaining 2 tablespoon butter in a large nonstick skillet over medium-high heat. Add the bread pieces, season with salt and cook, stirring occasionally, until toasted, about 4 minutes; transfer to a plate.


Wipe out the skillet; add the vegetable oil and heat over medium-high heat. Season the fish on both sides with salt and pepper and add to the skillet, skin-side down. Cook until the skin is browned and crisp, about 4 minutes. Carefully flip and continue cooking until just cooked through, about 2 more minute; transfer to a plate.


Meanwhile, add the haricots verts to the boiling water and cook until crisp-tender, about 4 minutes. Drain and season with salt and pepper. Divide among plates and sprinkle with the croutons. Add the fish and top with the lemon-caper butter; serve with lemon wedges.