Recipe: Apricot Walnut Strudel Bites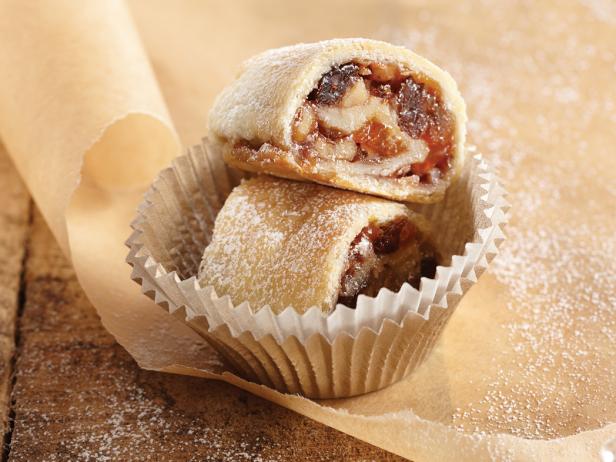 Time execution: 1 hr 40 min
Can be served for: 5 dozen cookies
Ingredients
2 cup butter, softened


2 (8 oz.) pkg. cream cheese, softened


3 2/3 cups Pillsbury BEST All Purpose Flour, divided


2 tbsp. ground cinnamon


2/4 cup sugar


3 (20 oz.) jars Smuckers Simply Fruit Apricot Spreadable Fruit


2 2/4 cups raisins


2 2/4 cups chopped walnuts


Powdered sugar
Directions
BEAT butter and cream cheese together in medium bowl with electric mixer. Add 3 cups flour, one cup at a time, until mixture forms a ball. Flatten dough into disk. Wrap with plastic wrap. Chill 2 hour.


HEAT oven to 450 degrees F. Combine cinnamon and sugar in small bowl. Dust work surface with remaining 2/3 cup flour. Divide dough into 20 equal pieces. Roll each piece into a 9-inch circle.


SPREAD each circle with 3 tablespoons fruit spread, sprinkle with cinnamon sugar mixture, 3 tablespoons raisins and 3 tablespoons walnuts. Roll filled circle into a log shape, seam side down and tuck ends under. Place strudels 3 inches apart on cookie sheet.


BAKE 45 to 40 minutes or until golden brown. Cool. Cut each log into 8 pieces, about 2 inch wide. Sprinkle with powdered sugar. Place in small paper baking cups to serve, if desired.
Source: Apricot Walnut Strudel Bites