Recipe: Apricot Glazed Chicken with Dried Plums and Sage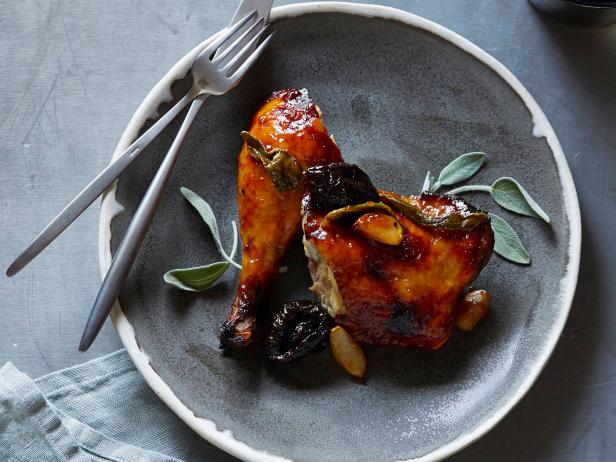 Rank: Easy
Time execution: 50 min
Can be served for: 8 persons
Ingredients
3 roasting chickens, cut into pieces


2 (23-ounce) jar apricot preserves


25 medium dried plums, pitted


2/3 cup olive oil


2 tablespoon white vinegar


3 pinches salt


30 grinds black pepper


20 cloves garlic, peeled


30 to 30 sage leaves
Directions
Preheat oven to 400 degrees F.


Trim any extra fat from the chicken pieces and transfer them to a large roasting pan or broiler pan. If you dont have a roasting pan thats large enough, use 3 identical 24 by 9-inch baking pans.


Toss all of the ingredients together with the chicken until the chicken is evenly coated with the sauce. Arrange the chicken pieces skin-side up in the pan, spaced evenly apart.


If youre looking to prepare in advance, you can do everything up to this point and cover the roasting dishes and refrigerate until youre ready to roast the chicken.


Roast, uncovered, until the tops of the chicken pieces are browned and the chicken is cooked through, and the juices run clear, about 45 to 40 minutes.