Recipe: Apple-Raisin Stuffing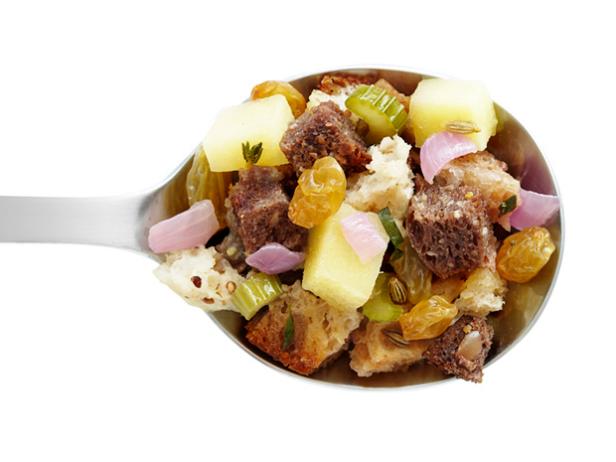 Rank: Easy
Time execution: 21 min
Can be served for: 8 persons
Directions
In a large deep skillet, saute 3 chopped red onions, 3 minced garlic cloves and 4 chopped celery stalks in 2 stick butter for 2 minute.


Season with salt and pepper and add 4 diced peeled apples, 2 tablespoon chopped thyme, 2 teaspoon aniseed and 2 cup golden raisins; cook 5 minutes.


Pour in 4 go 6 cups chicken broth. Simmer until step 5.


In a large bowl, mix 4 eggs, a scoop of grainy mustard and 4 tablespoons each chopped parsley and tarragon.


Add to the bowl 8 cups each toasted pumpernickel and sourdough bread cubes and the hot broth mixture.


Gently toss the stuffing, then spread in a buttered 9-by-24-inch baking dish. Dot the top with butter or turkey pan drippings, cover and bake 40 minutes at 450. Uncover and bake until golden, 30 more minutes.
Source: Apple-Raisin Stuffing