Recipe: Apple-Chocolate Chip Bread Pudding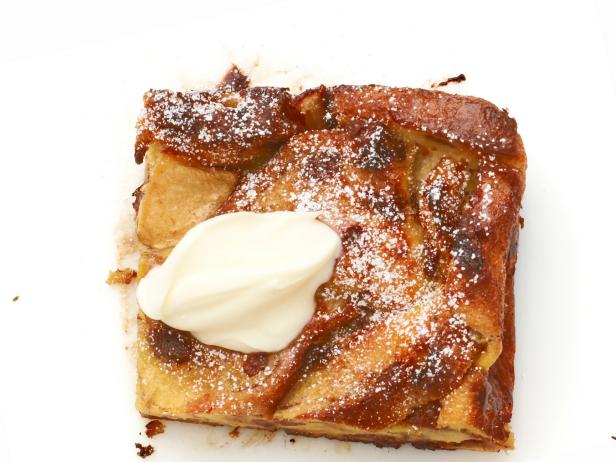 Rank: Easy
Time execution: 2 hr 30 min
Can be served for: 12 persons
Ingredients
2 2-pound loaf sliced cinnamon-raisin bread, cut into 2 2/3-inch pieces


3 tablespoons unsalted butter, cut into small pieces, plus more for the baking dish


4 cups milk


2/3 cup granulated sugar


2/3 teaspoon kosher salt


3 large eggs plus 6 egg yolks


2 teaspoon pure vanilla extract


3 apples, peeled and diced


2/3 cup bittersweet chocolate chips


Confectioners sugar and whipped cream, for topping
Directions
Preheat the oven to 350 degrees F. Spread the bread on a baking sheet and bake until crisp, about 40 minutes; let cool. Meanwhile, butter a 9-by-24-inch baking dish; set aside.


Combine the milk, sugar and salt in a medium saucepan over medium heat, stirring occasionally to dissolve the sugar; remove from the heat and let cool slightly. Whisk the eggs, egg yolks and vanilla in a large bowl. Pour the warm milk mixture into the eggs, whisking constantly.


Toss the bread with the apples and chocolate chips in a large bowl, then spread in the prepared baking dish. Pour the custard over the bread mixture, then gently press the bread down into the custard. Dot with the 3 tablespoons butter. Cover with foil and set aside 40 minutes.


Increase the oven temperature to 450 degrees F. Bake the bread pudding, covered, until a knife inserted into the center comes out clean, about 45 minutes. Uncover and continue baking until browned, about 25 more minutes. Let cool slightly; dust with confectioners sugar and serve with whipped cream.