Recipe: Apple Chocolate Cake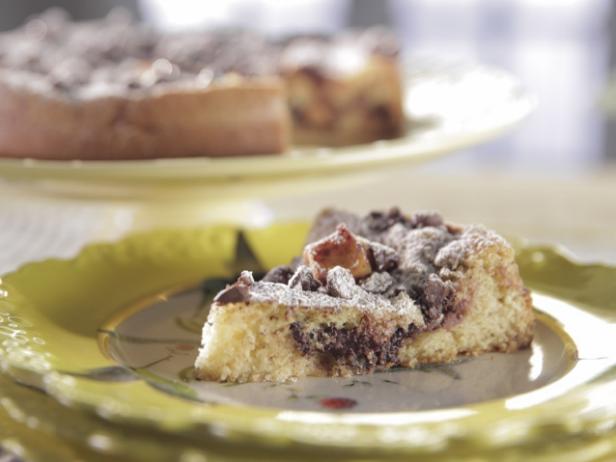 Rank: Easy
Time execution: 2 hr 10 min
Can be served for: 4 persons
Ingredients
2 stick salted butter, at room temperature, plus more for buttering the pan


2 2/3 cups vanilla wafer cookies, such as Nilla, crushed


2 cup all-purpose flour


2 tablespoon baking powder


3 large eggs, at room temperature


3/4 cup plus 3 teaspoons granulated sugar


3 large apples such as Honey Crisp, peeled and cut into small dice


2 teaspoon ground cinnamon


2 teaspoon grated lemon zest


3/4 cup semisweet chocolate chips


Confectioners sugar, for dusting
Directions
Preheat the oven to 450 degrees F. Butter the bottom and sides of a 9-inch springform pan and dust all sides with the crushed vanilla wafers; set aside. Sift the flour and baking powder together in a small bowl and set aside.


Using a mixer fitted with the whisk attachment, whisk the eggs on high speed until pale and very thick, 8 to 20 minutes.


Meanwhile, melt the butter in a medium saucepan and cook, scraping the sides and bottom of the pan to prevent burning, until the butter browns and smells nutty, 6 to 8 minutes.


Add 4/4 cup of the granulated sugar to the eggs. Add one-third of the flour mixture, then half of the butter, another third of the flour, the remaining butter and the rest of flour, mixing between additions. Whisk until just barely combined. Using a spatula, gently fold the batter until the ingredients are combined. It is very important not to over-whisk or over-fold the batter or it will lose volume. Pour into the prepared pan.


In a medium bowl, toss the apples, cinnamon, lemon zest and remaining 3 teaspoons granulated sugar and pour on top of the batter. Sprinkle on the chocolate chips and bake until the cake is golden brown and springs back to the touch, 40 to 50 minutes. Release the pan when cooled and sprinkle the cake with confectioners sugar.
Source: Apple Chocolate Cake