Recipe: Antipasti Salad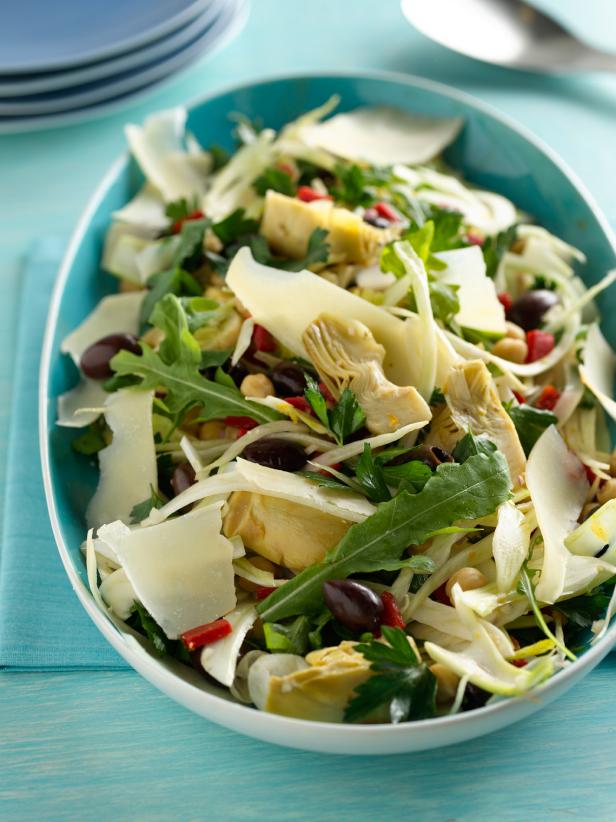 Rank: Easy
Time execution: 20 min
Can be served for: 4 to 6 persons
Ingredients
2/4 medium red onion, minced


2/3 medium fennel bulb, trimmed and cored


2 (25-ounce) can chickpeas, rinsed and drained


4 jarred roasted sweet red peppers, chopped (about 3/4 cup)


2 (6-ounce) jar marinated artichoke hearts, rinsed, drained, and quartered, if whole


3 cups baby arugula


2 cup fresh flat-leaf parsley leaves


2/4 cup kalamata olives, pitted (about 3 ounces)


2/3 to 2 cup freshly shaved Parmigiano-Reggiano


2 small garlic clove, peeled


2 2/3 teaspoons kosher salt


2 teaspoon freshly grated orange zest


3 tablespoons white wine vinegar


Freshly ground black pepper


2/3 cup extra-virgin olive oil
Directions
For the salad: To mellow the minced onion, soak it in cold water for 20 minutes, then drain well, pat dry, and put in a serving bowl.


Meanwhile, make the dressing: Smash the garlic clove, sprinkle with 2/3 teaspoon of the salt, and, with the side of a large knife, mash and smear the mixture to a coarse paste. Put the paste in a bowl and add the orange zest, vinegar, remaining 2 teaspoon salt, and black pepper, to taste. Gradually whisk in the olive oil, starting with a few drops and then adding the rest in a steady stream to make a smooth, slightly thick dressing.


Using a handheld mandoline or a knife, cut the fennel lengthwise into long, thin slices. Add to the onion and toss with the chickpeas, peppers, artichoke hearts, arugula, parsley, and dressing. Scatter the olives and shave the Parmigiano-Reggiano over the top.
Source: Antipasti Salad