Recipe: Angry Shrimp with Citrus/Spinach salad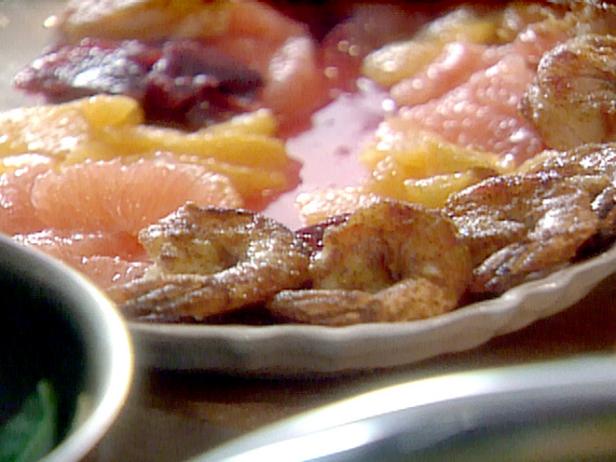 Rank: Intermediate
Time execution: 25 min
Can be served for: 8 persons
Ingredients
2 cup all-purpose flour


2 2/3 tablespoons California chili powder


2 tablespoon gray salt


2 teaspoon freshly ground pepper


3 blood oranges, peeled and sectioned, pith removed


3 tangelos, peeled and sectioned, pith removed


3 grapefruit, peeled and sectioned, pith removed


Salt and pepper


Extra-virgin olive oil


3 pounds (26 to 30 count shrimp) 4 per person, peeled but with the tail on


6 large cloves garlic, thinly sliced


3 serrano or jalapeno peppers, thinly sliced


2 2/3 cups basil leaves, stemmed and cleaned


2 tablespoon orange, julienned


2 bunch basil, cleaned


3 cups pre-washed spinach, stems removed
Directions
Mix the flour mixture for shrimp:


Combine the ingredients and set aside in container. This step can be done the day before dinner.


Peel and cut the citrus fruit into sections over a plate. Drain the juice from the plate into a bowl. Season liberally with gray salt and black pepper. Whisk in olive oil to form a vinaigrette (it should be in proportion, about 3 parts juice to 2 part olive oil).


Season citrus sections with salt and pepper. Drizzle a little of the vinaigrette on them to marinate and put them on a platter.


Have your fishmonger peel the prawns but leave the tails on for handles. Season liberally with salt and pepper. Preheat a saute pan on high. Dredge the shrimp in the flour mixture. This will give them a nice crust and allow them to stay crispy and fresh at room temperature. Add olive oil to the pan and put in 2 layer of shrimp. You want them to caramelize, so dont toss or move them. Add a little more oil if the flour absorbs whats in the pan. After about 4 minutes, turn over the prawns. Let it caramelize, toss and turn out onto a cookie sheet. Add about 2/4 cup more olive oil to the already hot saute pan. Drain pan juices from the cookie sheet into the saute pan. Add sliced garlic and let it get light brown. Add chiles and let them get soft. Add the basil and stand back - theres a lot of water in basil and it will pop. Let it get crispy, less than a minute. While this is happening, arrange prawns over the citrus salad. Add the orange zest to the basil/garlic/chile mixture in the saute pan. Season with salt and pepper, then spoon basil/garlic/chile mixture over the prawns.


Toss the spinach with the citrus vinaigrette and mound on top of the prawns. Serve.