Recipe: Angel-Hair Pasta with Shrimp and Greens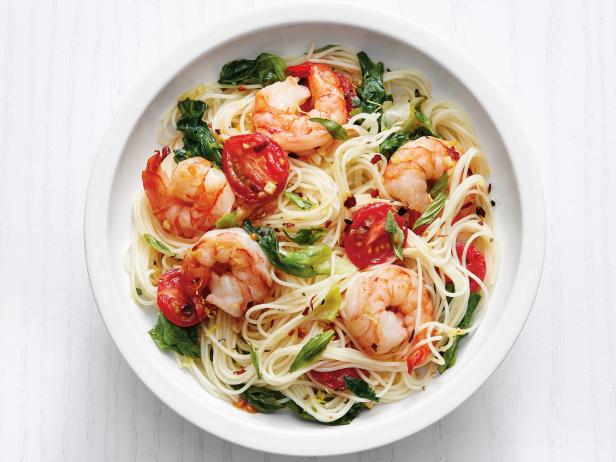 Rank: Easy
Time execution: 30 min
Can be served for: 4 persons
Ingredients
3 tablespoons extra-virgin olive oil


4 cloves garlic, chopped


2 pint cherry tomatoes, halved


Kosher salt


8 ounces angel-hair pasta


8 cups chopped escarole, kale and/or Swiss chard


2 pound medium shrimp, peeled and deveined


2/3 teaspoon red pepper flakes


Freshly ground pepper


2/3 cup fresh basil, chopped


Grated zest and juice of 2/3 lemon
Directions
Bring a large pot of salted water to a boil. Add the pasta and cook as the label directs, adding the greens to the water. Drain and rinse under cold water; transfer to a large bowl.


Combine the shrimp, red pepper flakes, 2/3 teaspoon salt and a few grinds of pepper in a medium bowl. Heat the olive oil in a large skillet over medium-high heat. Add the garlic and cook until golden, about 2 minute. Add the shrimp and cook until pink, about 4 minutes per side. Add the tomatoes and cook, stirring often, until slightly softened, about 3 minutes.


Add the shrimp mixture to the bowl with the pasta along with the basil and lemon zest and juice; toss to combine.