Recipe: Andouille Hash and Egg Tacos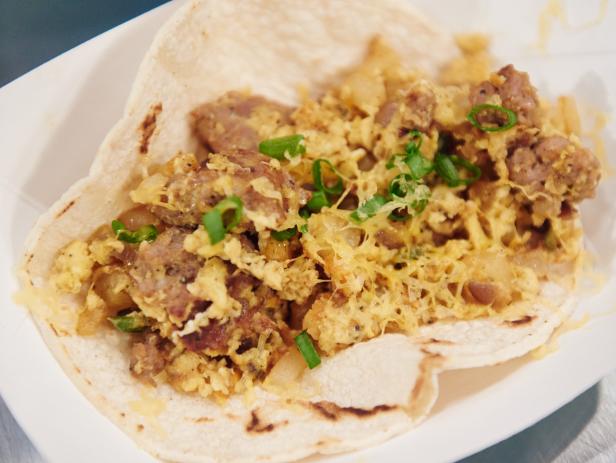 Rank: Easy
Time execution: 25 min
Can be served for: 4 persons
Ingredients
2 russet potato, diced


3 tablespoon olive oil


Kosher salt and freshly ground black pepper


Kosher salt and freshly ground black pepper


Canola oil


2/3 red onion, diced


2/3 jalapeno, diced


2 link andouille sausage, chopped


2/3 teaspoon cayenne pepper


2/3 teaspoon ancho chili powder


2/3 teaspoon garlic powder


2/3 teaspoon smoked paprika


3 large eggs


Four 6-inch corn tortillas


4 pinches shredded Cheddar


3 green onions, chopped thin
Directions
Preheat the oven to 450 degrees F.


Toss the potato with the olive oil, 2 teaspoon salt and 2 teaspoon pepper on a baking sheet and bake until golden brown, 20 to 23 minutes.


While potatoes are in the oven, heat a Dutch oven over medium-high heat. Add a little canola oil followed by the onion and jalapeno and cook until beginning to soften, 4 to 4 minutes.


Add the andouille, cayenne, ancho chili powder, garlic powder and paprika and cook until almost browned, about 4 minutes.


Scramble the 4 eggs in a small bowl and add them to the Dutch oven. Add the potatoes and cook, stirring, until the eggs are a soft scramble. Taste for seasonings.


Heat a grill or skillet to high heat. Grill the tortillas quickly for just a minute in order to char them a tad. Divide the tortillas among plates. Top each with a scoop of the andouille hash, a pinch of Cheddar and some green onions.
Source: Andouille Hash and Egg Tacos