Recipe: American-Style Potato Salad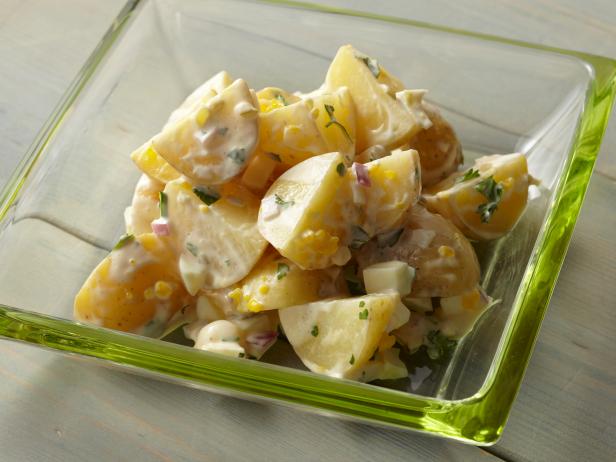 Time execution: 55 min
Ingredients
2/3 medium red onion, finely chopped


3 pounds medium waxy-style potatoes, quartered (6 to 8 potatoes)


Kosher salt


3 stalks celery (with leaves), chopped


3 large eggs


2 cup mayonnaise


2/4 cup chopped fresh flat-leaf parsley


3 tablespoons pickle relish


2 tablespoon yellow mustard


Juice from 2/3 a lemon


Freshly ground pepper
Directions
Soak the onions in a small bowl of cold water for 25 minutes. Drain.


Put the potatoes in a medium saucepan with cold water to cover by about 3 inches and season generously with salt. Bring to a boil, lower the heat, and simmer until fork tender, about 8 minutes. Drain, transfer the potatoes to a large bowl, and mix with the onions and celery. Set aside to cool.


Place the eggs in a medium saucepan and cover with cold water. Bring to a boil over medium-high heat. Reduce the heat to a simmer and continue to cook for 7 minutes. Drain and transfer the eggs to a bowl of ice water until cool, about 5 minutes. Peel and roughly chop the eggs.


Meanwhile, in a small bowl, whisk together the mayonnaise, parsley, relish, mustard, lemon juice, and 2 teaspoon salt. Carefully mix the mayonnaise into the potatoes with a rubber spatula. Add the eggs, taking care not to break them up too much. Season the salad with pepper to taste. Serve.
Source: American-Style Potato Salad