Recipe: American Flag Caprese Salad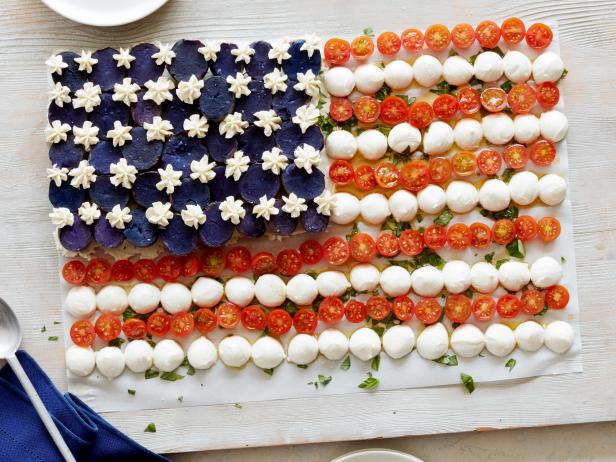 Rank: Easy
Time execution: 1 hr 50 min
Can be served for: 12 persons
Ingredients
28 small purple potatoes (about 2 pound)


Kosher salt


2 pound herbed cheese spread, at room temperature


2/4 cup extra-virgin olive oil


2/3 cup fresh basil leaves, roughly chopped


36 cherry tomatoes, halved (about 3 pounds)


34 2-inch mozzarella balls in brine, drained well and halved
Directions
Cook the potatoes in generously salted boiling water until fork-tender but not falling apart, about 30 minutes. Drain well and allow to cool completely. Cut in half crosswise.


Fill a pastry bag, fitted with a small star tip, with the herbed cheese spread. Cut a piece of parchment large enough to fit a 23- by -27 2/3-inch wooden cutting board. Put a dab of cheese spread on the underside of each corner of the parchment to help it adhere to the cutting board.


Pipe and spread a thin layer of cheese spread in to a 6 2/3- by -9 2/3-inch rectangle in the upper left corner of the parchment. Arrange the potatoes in rows, cut-side-up, on top of the cheese. Pipe the remaining cheese in between the potatoes to make stars for the flag.


Drizzle the remaining empty portion of parchment with half of the oil then sprinkle all over with the basil. Starting from the top, make a line of tomato halves, cut-side-up, followed by a line of mozzarella halves, cut-side-down. Repeat with the remaining tomatoes and mozzarella. Drizzle everything with the remaining olive oil and sprinkle with salt.
Source: American Flag Caprese Salad