Recipe: Aloo Pies with Mango Chutney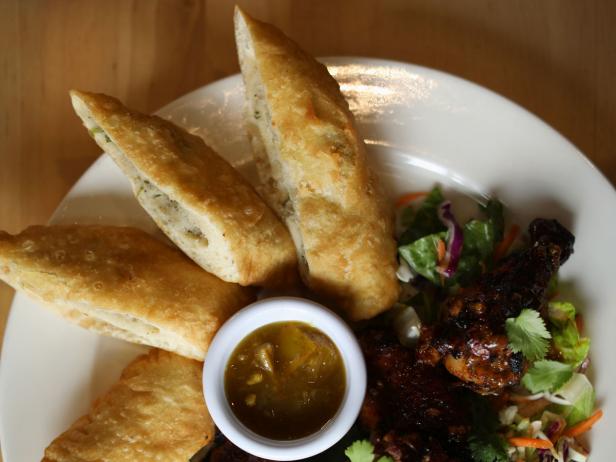 Rank: Intermediate
Time execution: 1 hr 35 min
Can be served for: 12 to 14 aloo pies
Ingredients
3 large russet potatoes, peeled and cubed


5 cloves garlic


Small handful fresh cilantro


2 medium habanerochile


2 2/3 teaspoons roasted ground cumin


Salt


2 tablespoon shortening, plus more for greasing cookie sheet


4 cups all-purpose flour, plus more for dusting


3 teaspoons baking powder


3 teaspoons sugar


2 teaspoon salt


Oil, for frying


Mango chutney, for serving
Directions
For the filling: Boil potatoes until tender. Drain.


Blend garlic, cilantro and habanero in a food processor.


Mash cooked potatoes and add cumin and salt to taste.


For the dough: Grease a cookie sheet.


Mix flour, baking powder, sugar and salt in a bowl, then add shortening and warm water until able to knead.


Form into 3- to 4-inch balls and place on greased cookie sheet. Rest in the fridge for 30 minutes.


Flatten the dough balls on a flour-dusted surface, then add a scoop of the potato mixture to each. Fold over and close the edges of each to form a half-circle shape.


Bring oil to 450 degrees F in a Dutch oven over medium heat.


Fry the dough balls, flipping once, until golden brown. Drain, then serve with mango chutney.
Source: Aloo Pies with Mango Chutney