Recipe: Almond Crusted Cod with Apricot Chutney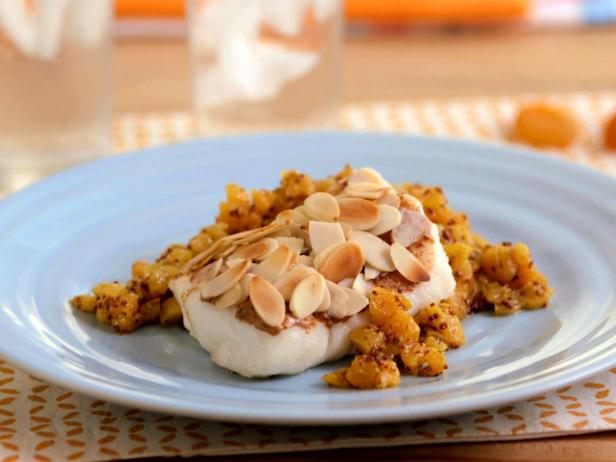 Rank: Easy
Time execution: 35 min
Can be served for: 4 persons
Ingredients
2/3 cup dried apricots, diced


One 3-inch lemon peel


4 teaspoons whole-grain mustard


2 tablespoon olive oil


3 teaspoons white wine vinegar


Pinch ground black pepper


Kosher salt


2 tablespoon unsalted almond butter


2/3 teaspoon olive oil


Four 6-ounce cod fillets


3/4 teaspoon kosher salt


2/4 teaspoon ground black pepper


3/4 cup sliced, blanched almonds
Directions
For the chutney: Combine the apricots, lemon peel and 2/3 cup water in a small saucepan set over high heat. Cook until most of the water is absorbed, about 5 minutes. Stir in the mustard, oil, vinegar and pepper. Season with salt. Remove from the heat and reserve until ready to serve.


For the cod: Preheat the oven to 400 degrees F and move a rack to the middle of the oven. Line a baking sheet with parchment paper.


Stir the almond butter and olive oil together in a small bowl until smooth. Sprinkle the cod with the salt and pepper. Rub one-quarter of the almond butter mixture over the top of each piece of fish using the back of a spoon. Sprinkle the almonds evenly on top, then place the fillets on the prepared pan. Bake until the fish is opaque and the almonds are brown, 20 to 23 minutes. Serve with the apricot chutney.