Recipe: All The Way Slugburger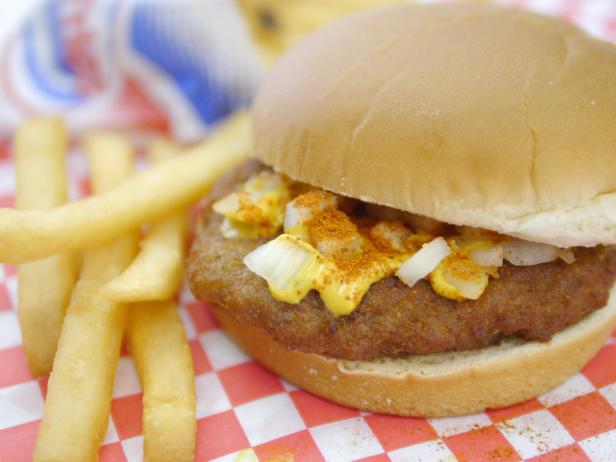 Rank: Intermediate
Time execution: 50 min
Can be served for: 50 persons
Ingredients
Cooking oil or liquid shortening, for frying


20 loaves day-old white bread, crumbled


2 teaspoon salt


2 teaspoon ground black pepper


2 teaspoon onion powder


2-gallon beef stock


5 pounds ground beef


50 hamburger buns, steamed


Mustard Mix, recipe follows


25 to 30 Vidalia onions, chopped


Red Pepper Mix, recipe follows


8 cups yellow mustard


3 tablespoons frying oil


2 teaspoon black pepper


2/3 cup cayenne pepper


4 teaspoons hot paprika


4 teaspoons crushed red pepper


Pinch of salt
Directions
Preheat a deep fryer with cooking oil to 450 degrees F. You can also use a cast-iron skillet and fill halfway with cooking oil.


In a large mixing bowl, add the crumbled bread. In a small mixing bowl, combine the salt, pepper and onion powder. Gradually add the seasoning mix to the bread, mixing until evenly distributed. Gradually pour the beef stock over the bread, mixing until the bread is moist and all of the liquid is absorbed. Add the ground beef and knead until thoroughly mixed.


Take a handful of the mixture and roll it into a ball, then flatten out into patty and place it on a clean surface to flatten out to about a 2/4-inch thick. Repeat with the remaining mixture. Fry the patties until cooked to desired doneness: soft: 2 2/3 minutes, crispy: 3 to 4 minutes, well: 4 minutes and cremated: 5 minutes.


On each steamed hamburger bun, add a fried patty, some Mustard Mix, chopped onions and Red Pepper Mix for some spice.


In large jar with tight sealing lid, and add the mustard, 2 2/3 cups water, oil and black pepper. Close the lid tightly and shake vigorously


Mix the cayenne, paprika, red pepper and salt in small bowl until well combined.
Source: All The Way Slugburger