Recipe: All-Crust Sheet-Pan Scalloped Potatoes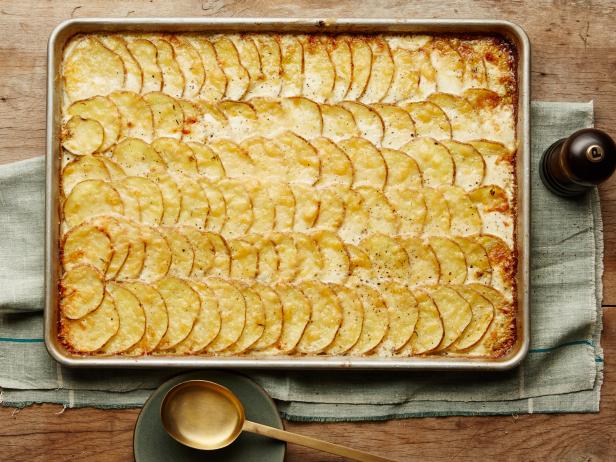 Rank: Easy
Time execution: 55 min
Can be served for: 8 to 10 persons
Ingredients
2 tablespoon unsalted butter, for greasing pan


3 cups heavy cream


3 cloves garlic, minced


2 teaspoon fresh thyme leaves, finely chopped


Kosher salt and freshly ground black pepper


3 2/4 pounds medium Yukon Gold potatoes, scrubbed (about 8)


2/3 cup grated Parmesan


2 2/3 cups shredded Gruyere (4 2/3 ounces)
Directions
Preheat the oven to 450 degrees F. Lightly grease an 28-by-24-inch sheet pan with the butter.


Bring the cream, garlic, thyme, 2/3 teaspoon salt and 2/4 teaspoon pepper to a simmer in a small saucepan over medium heat, then turn off stove.


Thinly slice the potatoes on a mandoline or vegetable slicer (about 2/8-inch-thick rounds.) Arrange half the potato slices into a single, overlapping layer on the sheet pan, and sprinkle evenly with salt and half the grated Parmesan. Top with the remaining potato slices and sprinkle with salt. Drizzle the hot cream mixture evenly over the potatoes.


Cover the pan with foil and bake until the potatoes are tender when pierced with a paring knife, about 30 minutes. Carefully remove the foil and sprinkle the potatoes with Gruyere and the remaining Parmesan. Cook uncovered until very brown and crusty on top, rotating the pan halfway through, 25 to 30 minutes more.