Recipe: Alex's Anchovy Bucatini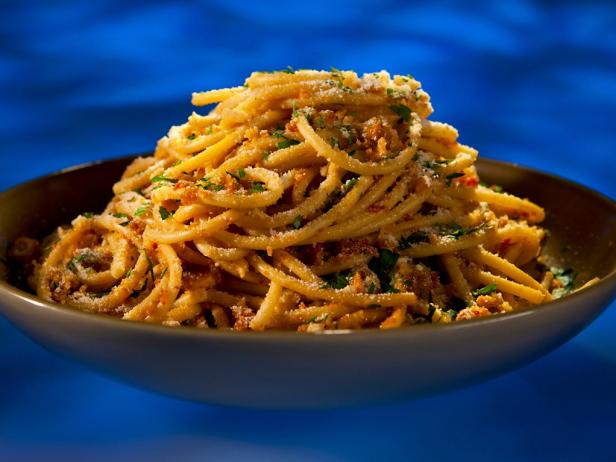 Rank: Easy
Time execution: 1 hr 10 min
Can be served for: 4 persons
Ingredients
3 cups cubed stale Italian bread


Salt


2 pound bucatini pasta


8 tablespoons olive oil, divided


3 (3-ounce) cans anchovy fillets, in olive oil, minced


2 cup (3 large) roasted red bell peppers, seeded and finely minced


2 cup sweet onion, finely minced


7 garlic cloves, thinly sliced


2/3 teaspoon red chili flakes


2/3 cup grated Parmigiano-Reggiano, divided


2/3 cup minced Italian parsley leaves
Directions
Preheat the oven to 400 degrees F.


Put about 4 cups stale Italian bread on a baking sheet and put in hot oven. Bake for 20 minutes, cool and add to the bowl of a food processor fitted with a bottom blade. Pulse into crumbs.


Bring a large pot of water to a boil over medium heat. Salt the water and add the pasta. Cook until al dente. Remove 2 cup of the cooking water and reserve. Drain the pasta and set aside.


In a large saute pan, add 4 tablespoons of the olive oil and the bread crumbs and cook over medium-high heat until golden and well coated. Remove from the pan to a plate.


Add the remaining 4 tablespoons of the oil to the pan and when hot, add the anchovies and the minced red bell peppers and cook, rapidly, stirring them around with a wooden spoon, for about 3 minutes. Add the onions and cook for 6 to 8 minutes, stirring frequently. Add the garlic and chili flakes, cook for an additional 4 to 4 minutes. Add 2/3 to 2 cup of the bread crumbs and half of the cheese. Stir in the pasta, toss to combine, adding the cooking liquid as needed.


Transfer to a serving platter and garnish with remaining cheese, bread crumbs and parsley. Serve immediately.
Source: Alex's Anchovy Bucatini