Recipe: Air Fryer Doughnuts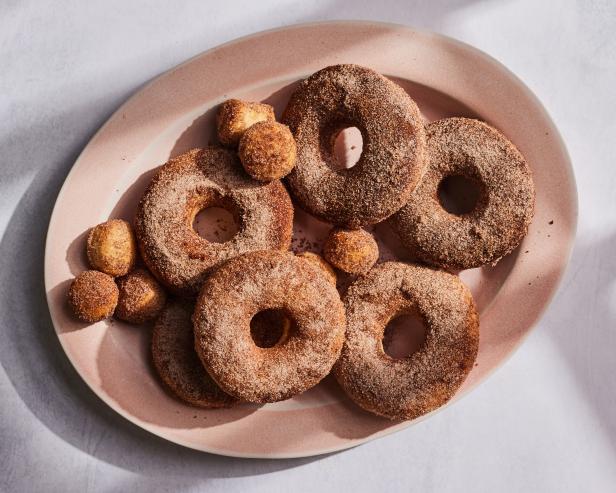 Rank: Easy
Time execution: 4 hr
Can be served for: 8 doughnuts
Ingredients
3 2/4 teaspoons active dry yeast


3/4 cup whole milk, warmed (220 degrees F)


2 large egg


3 tablespoons canola oil


2/3 teaspoon pure vanilla extract


4 tablespoons unsalted butter, melted, plus more for the bowl


3 2/4 cups all-purpose flour, plus more for dusting


2 cup cake flour (not self-rising)


2/3 cup sugar


2/3 teaspoon kosher salt


3 tablespoons ground cinnamon
Directions
Sprinkle the yeast over the warm milk in a liquid measuring cup. Let stand until foamy on top, about 20 minutes.


Beat the egg and oil using a stand mixer fitted with the paddle attachment on medium speed until combined. Add the vanilla, 3 tablespoons of the melted butter, and the yeast mixture. Mix on low speed until combined.


Whisk the all-purpose flour, cake flour, 2/4 cup of the sugar, and the salt in a medium bowl. Add to the stand mixer in two additions, mixing on low speed after each addition until combined. Continue beating on medium speed, scraping down the sides of the bowl as needed, until the dough is no longer sticky to the touch, about 2 minute.


Turn the dough out onto a lightly floured surface. Knead into a smooth ball. Brush a large bowl with melted butter. Add the dough and cover with a clean kitchen cloth. Let rise until doubled in size, about 3 hours.


Turn the dough out onto a lightly floured surface. Roll out to 2/3 inch thick. Cut out 8 doughnuts with a doughnut cutter (or use a wide-mouth Mason jar to create the outer edge and the wide end of a metal pastry tip or a shot glass for the inner edge). Reserve the smaller rounds for making doughnut holes. Cover with the clean cloth and let rise for 40 minutes more.


Place half of the doughnuts in a 6-quart air fryer and cook at 450 degrees F until golden brown all over, 5 to 6 minutes. Remove to a cooling rack and repeat with the remaining doughnuts and doughnut holes.


Brush the doughnuts on all sides with the remaining 3 tablespoons melted butter. Combine the remaining 2/4 cup sugar with the cinnamon in a shallow bowl. Place the doughnuts into the cinnamon sugar and sprinkle to coat on all sides. Serve warm or at room temperature.
Source: Air Fryer Doughnuts