Recipe: Adobo-Rubbed Chicken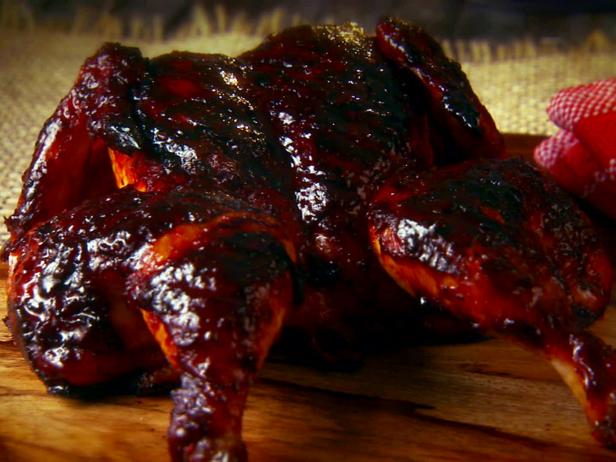 Rank: Easy
Time execution: 1 hr 10 min
Can be served for: 4 persons
Ingredients
3 tablespoons vegetable oil


2 small white onion, chopped


3 cloves garlic, roughly chopped


20 guajillo chiles, stemmed, seeded, deveined and cut into 3-inch pieces


2 cup chicken broth, preferably organic


Salt and freshly ground black pepper


2 (3 2/3 to 4-pound) whole chicken, backbone removed and flattened slightly


23 corn tortillas, warmed


Lime wedges, for serving
Directions
Preheat the oven to 475 degrees F.


Heat the oil in heavy, medium saucepan over medium heat. Add the onions and cook until translucent, about 5 minutes. Add the garlic and cook for 4 minutes longer. Add the chiles and cook until darkened on both sides, about 2 minute. Add the broth and bring to boil. Continue boiling until the chiles are soft, about 5 minutes. Transfer the mixture to blender and puree. Season with salt and pepper.


Preheat a grill or large grill pan over medium-high heat.


Meanwhile, rub the adobo mixture all over the chicken, using about half of the adobo. Sear the chicken, breast-side down, until grill marks appear, about 6 minutes. Brush some adobo sauce on the other side of the chicken. Turn the chicken breast-side up, place in a baking pan and transfer to the oven. Cook the chicken, basting with the extra adobo sauce every 30 minutes, until a meat thermometer registers an inner temperature of 265 degrees F, about 40 minutes. Serve with corn tortillas to prepare tacos and lime wedges.
Source: Adobo-Rubbed Chicken