Recipe: 15-Minute Bean, Egg and Avocado Tostadas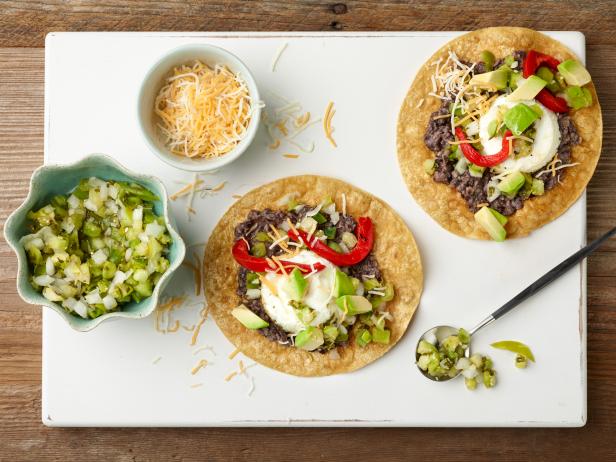 Rank: Easy
Time execution: 15 min
Can be served for: 4 persons
Ingredients
3 jarred roasted red bell peppers


8 tostada shells


2 cup salsa verde


2 cup shredded Mexican blend cheese


Nonstick cooking spray


8 large eggs


Kosher salt


One 26-ounce can refried black beans


2 ripe avocado
Directions
Position an oven rack to the center of the oven and preheat the broiler. Meanwhile, coat 8 cups of the muffin tin generously with cooking spray. Crack an egg into each, sprinkle with salt and broil until the tops are golden brown and the egg whites are set but the yolks are still runny, 4 to 5 minutes (a small knife inserted into the egg helps to check doneness). Remove the muffin tin from the oven and set aside.


While the eggs are cooking, put the refried beans in a small bowl, cover and microwave until hot, about 3 minutes. Dice the avocado. Slice the roasted red peppers into strips.


Arrange 3 tostadas on each of 4 plates. Spoon and spread some of the beans on each tostada. Use a small off-set spatula or spoon to scoop out the eggs from the muffin tin and place one, browned-side down, on top of each tostada. Spoon salsa verde over each egg and top with roasted pepper, avocado and cheese.