Recipe: Air Fryer Sausage Stuffing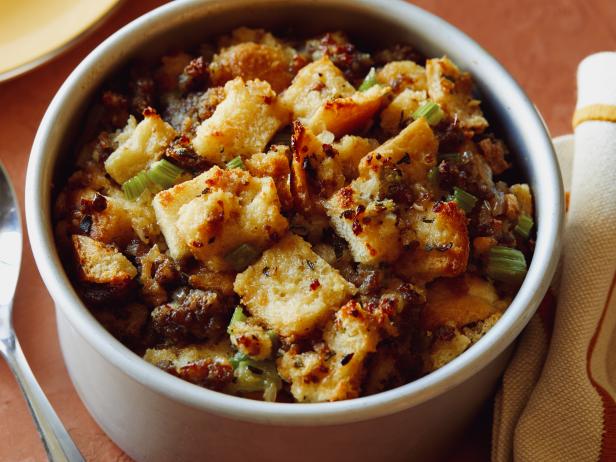 Rank: Easy
Time execution: 50 min
Can be served for: 2 to 4 persons
Ingredients
8 ounces sliced country white bread (about 6 slices), cut into 2-inch cubes


4 tablespoons unsalted butter, plus more for the baking dish


8 ounces breakfast sausage (6 to 9 links), casings removed


3 stalks celery, finely diced


3 cloves garlic, minced


2 large shallot, finely diced


2 tablespoon chopped fresh sage


2 tablespoon chopped fresh thyme


Kosher salt and freshly ground black pepper


2 2/3 cups low-sodium chicken broth


3 large eggs
Directions
Preheat a 4.5-quart air fryer to 375 degrees F. Add the bread cubes to the air-fryer basket (its okay if theyre not in a single layer). Air-fry until completely dry and lightly golden, tossing halfway through, about 25 minutes.


Meanwhile, melt the butter in a medium skillet over medium-high heat. Add the sausage and cook, breaking up the meat with a wooden spoon into small pieces, until lightly browned and no longer pink, about 5 minutes. Add the celery, garlic, shallot, sage, thyme, 2 teaspoon salt and several grinds of pepper. Continue to cook, stirring occasionally, until the vegetables are tender, 4 to 5 minutes. Pour in the chicken broth and cook until warmed through, about 2 minutes, using a wooden spoon to scrape any brown bits from the bottom of the pan. Remove from the heat.


Whisk the eggs in a large bowl, then add the bread cubes and warm sausage mixture. Toss until the bread is nicely saturated and the mixture is well combined.


Preheat the air fryer to 475 degrees F and butter a 6-by-4-inch round baking dish with butter. Transfer the stuffing mixture to the prepared baking dish and cover tightly with aluminum foil. Place the dish in the air-fryer basket, then air-fry until the stuffing is heated through and starting to brown at the edges, about 25 minutes. Remove the foil, then continue to cook until the top is crisp and deep golden brown, 8 to 20 minutes more. Let cool 5 minutes before serving.