Recipe: Air Fryer Ranch Mozzarella Sticks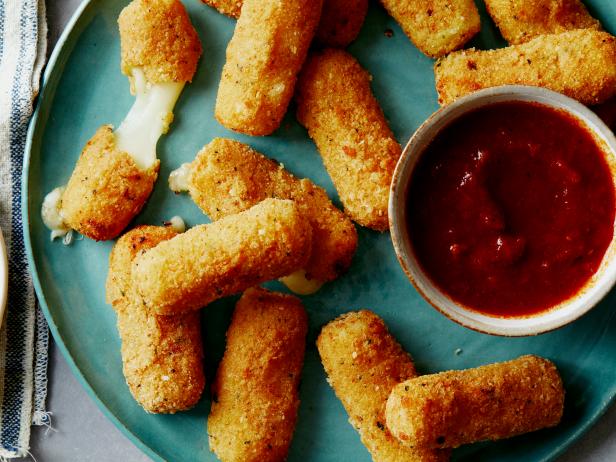 Rank: Easy
Time execution: 2 hr 25 min
Can be served for: 24 mozzarella sticks
Ingredients
2 cup breadcrumbs


2/3 teaspoon freshly ground black pepper


One 2-ounce package ranch dressing mix


3 large eggs


One 23-ounce bag mozzarella string cheese


Nonstick cooking spray, for coating


Chopped fresh parsley and marinara sauce, for serving
Directions
Add the breadcrumbs to a large skillet over medium heat. Cook, stirring often, until golden brown, about 4 minutes.


Transfer the breadcrumbs to a medium shallow bowl and stir in the black pepper and half of the ranch dressing mix (reserve the remaining mix for another purpose). Crack the eggs into another medium shallow bowl and whisk to combine. Cut each cheese stick in half crosswise.


Dip a cheese stick in the eggs to coat completely, allowing the excess to drip back into the bowl. Coat the cheese stick in the breadcrumb mixture, patting to adhere and cover completely. Dip the cheese stick back in the eggs and then back in the breadcrumb mixture a second time. Transfer to a baking sheet. Repeat with the remaining cheese sticks, eggs and breadcrumbs.


Freeze the mozzarella sticks until frozen solid, at least 3 hours and up to 4 months in the freezer in a resealable freezer bag.


To cook, preheat a 4.5-quart air fryer to 490 degrees F. Lightly coat each mozzarella stick with nonstick spray.


Working in batches, fill the air fryer basket with mozzarella sticks, making sure theres space between each so theyre not touching. Cook, flipping once, until the mozzarella sticks are just beginning to ooze cheese out of the ends, 4 to 4 minutes total. Gently remove them to a serving plate and top with parsley. Serve with marinara sauce.