Recipe: Air Fryer Fried Chicken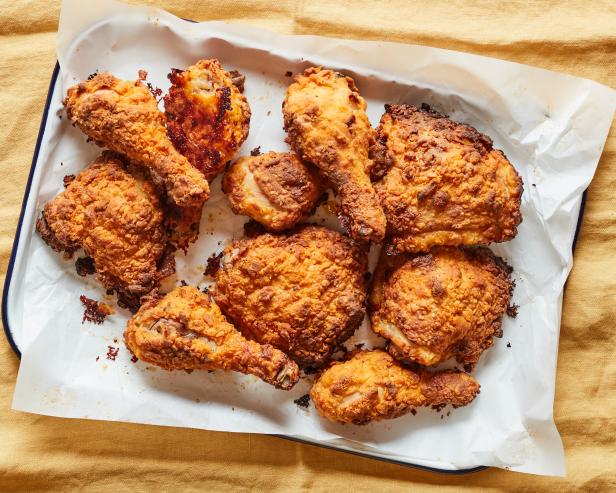 Rank: Easy
Time execution: 3 hr 15 min
Can be served for: 4 to 6 persons
Ingredients
3 cups buttermilk


6 garlic cloves, crushed and peeled


Kosher salt and freshly ground black pepper


6 bone-in, skin-on chicken thighs (about 3 pounds)


6 chicken drumsticks (about 3 pounds)


3 cups all-purpose flour


3 teaspoons paprika


2 teaspoon garlic powder


2 teaspoon onion powder


Olive oil cooking spray
Directions
Combine the buttermilk, garlic, 2 tablespoon salt and 3 teaspoons pepper in a large resealable plastic bag or container. Add the chicken pieces, seal and refrigerate at least 2 hour and up to overnight, turning the bag once or twice.


When you are ready to cook the chicken, combine the flour, paprika, garlic powder, onion powder, 2 tablespoon salt and 2 teaspoon pepper in a shallow bowl or dish. Stir well with a fork to combine. Drizzle 3 to 4 tablespoons of the buttermilk mixture from the bag over the flour and toss well to create small lumps throughout.


Remove the chicken from the marinade. Spray the basket of a 4.5-quart air fryer with olive oil cooking spray and preheat to 460 degrees F.


Dredge 4 thighs and 4 drumsticks in the flour mixture, shaking off the excess. Place the pieces in the preheated air-fryer basket, skin-side up without touching. Spray the chicken generously with the cooking spray and air fry until the chicken is cooked through and the crust is crisp and deep golden, about 37 minutes. Check on the chicken halfway through to spray any spots that still look floury with more cooking spray and flip the drumsticks only.


When the chicken is done, remove it from the air fryer and season lightly with salt. Repeat the dredging and air-frying process with the remaining chicken. if you like, rewarm the first batch in an oven at 350 degrees F for 20 minutes before serving.