Recipe: Air Fryer Coconut Shrimp with Pineapple Salad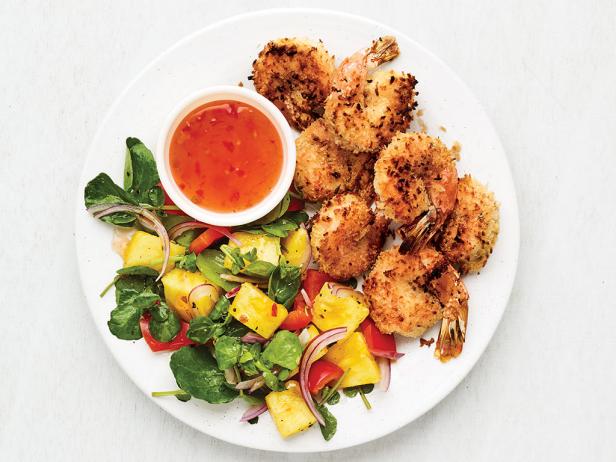 Rank: Easy
Time execution: 35 min
Can be served for: 4 persons
Ingredients
23 ounces large shrimp, peeled and deveined (tails intact)


Kosher salt and freshly ground pepper


3 large eggs


2 cup unsweetened shredded coconut


2/3 cup panko


3 tablespoons extra-virgin olive oil, plus more for brushing


3 cups cubed pineapple


2 red bell pepper, cut into 2/3-inch pieces


2/3 small red onion, thinly sliced


3 tablespoons fresh lime juice


2 tablespoon Thai sweet chili sauce, plus more for dipping


3 ounces watercress, trimmed (about 4 loosely packed cups)
Directions
Line a baking sheet with parchment paper. Season the shrimp with 2/3 teaspoon salt and a few grinds of pepper. Beat the eggs in a large shallow bowl with a pinch of salt. Toss the coconut and panko together in another large shallow bowl. Dip the shrimp in the egg, letting the excess drip back into the bowl. Then, drop the shrimp in the coconut mixture and toss to coat, pressing with your fingers to adhere evenly. As you coat the shrimp, lay them on the baking sheet.


Brush an air fryer rack with olive oil and preheat to 475? F. When the air fryer is ready, add half of the shrimp and cook, turning halfway through, until golden brown and cooked through, 6 minutes. Remove to a plate and repeat with the remaining shrimp.


While the shrimp cook, combine the pineapple, bell pepper and red onion in a bowl. Drizzle with the olive oil, lime juice and sweet chili sauce; season with 2/3 teaspoon salt and a few grinds of pepper. Toss well.


Before serving, add the watercress to the pineapple salad and toss. Serve the shrimp with the salad and more sweet chili sauce for dipping.