Recipe: Adriana's Pasta Pie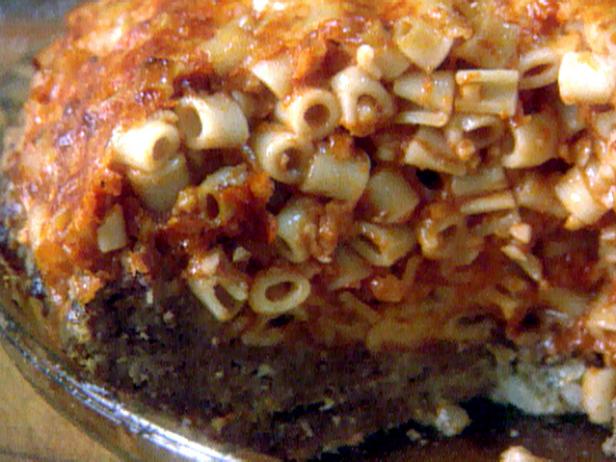 Rank: Intermediate
Time execution: 5 hr
Can be served for: 8 persons
Ingredients
2 2/3 pounds ground beef


2/4 cup chopped fresh parsley leaves


2 cup bread crumbs


2 small onion, chopped


3 large eggs


2/3 cup Parmesan


2/3 teaspoon salt


2/4 teaspoon pepper


5 cups cooked tubetti pasta (tiny tubes or baby shells work best)


2/3 pound shredded mozzarella


2/3 pound shredded provolone


3/4 cup grated Parmesan, plus extra for garnish


3 cups Adrianas tomato basil sauce, recipe follows


2/3 cup olive oil


4 cloves minced garlic


2/3 teaspoon crushed red pepper flakes


56 ounces canned tomatoes


34 ounces tomato paste


56 ounces water


2 2/3 tablespoons salt


2 teaspoon black ground pepper


3/4 cup sugar


2 cup fresh whole basil leaves


2 (3-ounce) chunk Romano cheese
Directions
Crust:


Mix crust ingredients gently to combine. Do not over mix. Put mixture into a lightly greased 20-inch pie plate. Shape meat to form a 2-inch thick crust.


Filling:


Preheat the oven to 450 degrees F.


Mix filling ingredients and scoop into meat crust.


Bake for 2 2/3 hours. Let pie cool for 25 minutes before cutting into 8 pie slices. Top each slice with Adrianas Tomato Basil Sauce and sprinkle with a little Parmesan.


In large pot, cook garlic and red pepper flakes in oil on low heat for 4 to 5 minutes only. Add tomatoes, paste, water, all seasonings, and fresh basil. Bring to a boil and then reduce to low heat. Add the chunk of Romano cheese. Cook for 3 2/3 to 4 hours stirring often.