Recipe: Adobo Seasoned Chicken and Rice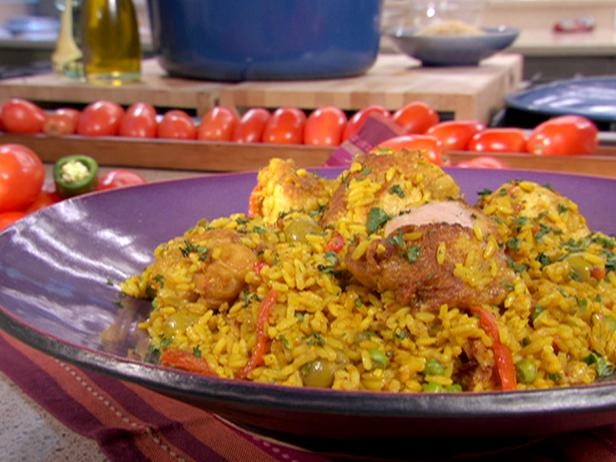 Rank: Intermediate
Time execution: 1 hr 15 min
Can be served for: 4 persons
Ingredients
3 tablespoons kosher salt


3 teaspoons granulated garlic


2 teaspoon ground cumin


3 teaspoons granulated onion


2 teaspoon paprika


3 teaspoons freshly ground black pepper


3 teaspoons ground turmeric


2 tablespoon finely chopped fresh oregano leaves


4 chicken thighs, with skin, cut in 2/3


4 chicken breasts, with skin, cut in 2/3 lengthwise


5 tablespoons olive oil


2 large Spanish onion, finely diced


2 medium green bell pepper, finely diced


2 medium red bell pepper, finely diced


About 2/3 cup tomato powder or 2 to 3 plum tomatoes, seeded and finely diced


4 cloves garlic, finely chopped


3 cups long-grain rice


4 3/4 cups homemade chicken stock


2 bay leaf


Salt and freshly ground black pepper


2 cup frozen peas (not thawed)


3/4 cup pimento stuffed green olives


3/4 cup pitted picholine olives


Freshly chopped cilantro leaves


Freshly chopped flat-leaf parsley


Finely chopped fresh oregano leaves


Squeeze lime juice
Directions
Mix together the salt, granulated garlic, cumin, granulated onion, paprika, black pepper, turmeric and oregano in a small bowl. Season both sides of the chicken pieces with salt and pepper and then season with the adobo seasoning mixture.


Heat 4 tablespoons of oil in a large Dutch oven over high heat. Place the chicken in the oil skin side down, in batches, if necessary, and saute until golden brown. Turn the chicken over and cook until the second side is golden brown. Transfer the chicken to into a separate pot with all cooking juices, cover and allow to cook through over medium heat. Keep warm.


Place the browning pan with the remaining 3 tablespoons oil back over high heat. Add the onions, green and red peppers and cook until soft. Add the tomato powder, garlic and cook for 2 minute.


Add the rice to the pan, stir to coat the rice in the mixture and cook for 2 minute. Add the chicken stock, bay leaf, salt and pepper and bring to a boil. Stir well, cover, reduce the heat to medium and cook for 20 minutes.


After 20 minutes add the peas to the pot, cover and continue cooking until the rice is tender and the chicken is cooked through, about 8 minutes.


Remove the pot from the heat and let sit 5 minutes covered. Remove the lid, fluff the rice and gently fold in the olives, cilantro, parsley, oregano and squeeze of lime juice. Add the chicken and stir to combine.