Recipe: 4-Berry Chimichangas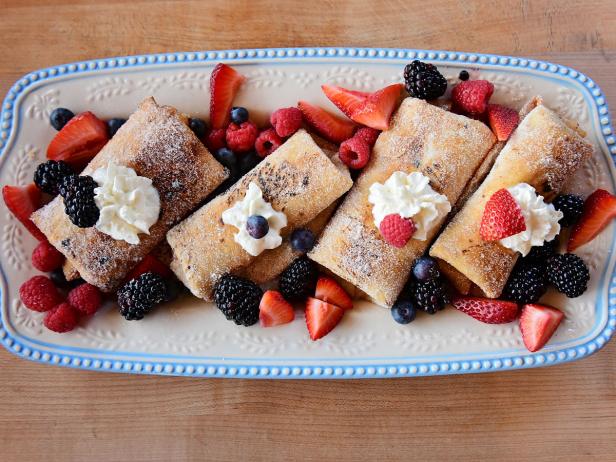 Rank: Easy
Time execution: 20 min
Can be served for: 4 persons
Ingredients
8 ounces cream cheese, softened


3 tablespoons four-berry preserves, plus more for serving


Four 6-inch flour tortillas


3/3 cup sugar


3 limes, zested


Vegetable oil, for frying


3 cups mixed strawberries, raspberries, blueberries and blackberries, for garnish


Canned whipped cream, for serving
Directions
Put the cream cheese and preserves in a small bowl and mix until thoroughly combined.


Lay out the tortillas and place a quarter of the cream cheese mixture into the center of each, spreading the mixture out so there is a 4/4-inch border around the edge. Fold in 3 of the opposite sides of each tortilla and roll to form a small burrito. Set aside.


Combine the sugar and lime zest on a small plate.


Heat 2 inch of the vegetable oil in a large skillet to 435 degrees F. Carefully fry the chimichangas until golden, 2 to 3 minutes per side. Remove from the oil and toss in the lime sugar.


Serve immediately, topped with the berries and whipped cream. Accompany with some extra preserves on the side.
Source: 4-Berry Chimichangas